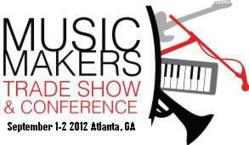 This event is exclusively for music makers, music listeners and music lovers.
Atlanta, GA (PRWEB) March 28, 2012
The Music Makers Trade Show & Conference, a groundbreaking industry event open to all involved with music, from artists and producers to record companies and music equipment manufacturers, will make its debut September 1-2 at Atlanta's Georgia World Congress Center.
The trade show, which is the creation of Perri Farmer, CEO of Atlanta-based UNISON Vision Inc., will, according to Farmer, "Provide a platform for independent artists to be seen and heard; allow the diverse facets of the music industry to network and connect; and introduce the latest in technology. Music Makers will bring the music world together in one venue."
Farmer, who grew up in Atlanta, believes that no other event will match Music Makers for its scope, diversity and opportunity, "We welcome artists from all music genres, anyone affiliated with the music industry and the general public to join us in Atlanta. This event is exclusively for music makers, music listeners and music lovers."
UNISON Vision's expectation is that new musical talent will be discovered every year at the Music Makers event.
Music Makers will be staged in the Georgia World Congress Center's A-Hall which encompasses over 100,000 square feet, providing space for 163 exhibitors and several stages for performances throughout the Show.
The event will be produced by Atlanta-based ExpoPlus and its CEPI division, one of the country's premier trade show and conference production companies. ExpoPlus and CEPI are wholly-owned units of Bodden Partners; a New York-based full service marketing communications firm.
About UNISON Vision, Inc.
UNISION Vision, Inc. was created by Chief Executive Officer Perri Famer in 2006 for the sole purpose of bringing his vision, Music Makers Trade Show and Conference, to life. It is the ambition of UNSION Vision, Inc. to provide a level playing field and opportunities for talented independent music artists. That has served as the impetus for the creation of Music Makers. The company and its founder are based in Atlanta, Georgia.
About ExpoPlus/CEPI
ExpoPlus is a full-service, creative event resource. ExpoPlus offers clients the experience and technical ability to produce national events on a grand scale as well as customized regional meetings. The firm maintains a stock of top quality exhibition equipment and has invested in cutting edge digital technology that will make your event visually impactful and unforgettable. Major events ExpoPlus has produced includes the Essence Music Festival and the National Education Association's annual meeting.
CEPI is Bodden's resource in trade show sales, sponsorship sales and exhibit management. CEPI will contract with all required outside contractors leveraging its long-standing relationships to provide clients with the best value attainable. CEPI is based in Atlanta and Tampa, FL.