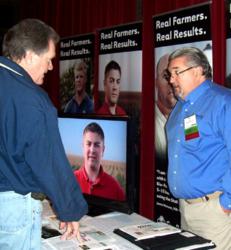 We've seen increasing numbers of farmers incorporating Stoller products into their row crop management program
Houston, TX (PRWEB) March 27, 2012
Over 400 Illinois Soybean growers gathered together at the IL Soybean Summit in Bloomington Illinois on March 9, 2012. The summit was the culmination of a Yield Challenge initiative sponsored by the Illinois Soybean Association. "The initiative is designed to discover and break down yield barriers," explains Jim Nelson, Yield Challenge Coordinator of the association. "With the increasing demand, Illinois farmers need to find ways to increase yields on the current acres already in production."
Stoller participated in the inaugural event by co-sponsoring two teams with retail partner Brimfield Agri-Service. The teams were comprised of 15 farmers in the district 4, central Illinois region. "The idea to sponsor a Stoller team grew out of discussions at last year's Illinois Farm Profitability Seminar." explained StollerUSA representative Don Stork . "Based on our work with Kip Cullers –helping him to break yield barriers in Missouri—we knew we had a product that could help the progressive farmers in Illinois too."
The teams utilized predetermined crop management strategies with an emphasis on managing the impact of crop stressors. Stoller products used included Bio-Forge® ST (seed treatment), Bio-Forge®, X-Tra Power™, Harvest More™ Urea Mate, and Sugar Mover™ at various application rates and timing.
Overall the teams achieved a 5.56 bu/acre increase just by incorporating Stoller's program into their management regimen. Even using conservative market price estimates the return calculated to well over $70 per acre.
"We've seen increasing numbers of farmers incorporating Stoller products into their row crop management program, "shared StollerUSA representative Rick Gaffney. "Products like Stoller's Bio-Forge help break the yield barrier everyone is talking about… and Stoller's Yield Challenge teams confirmed it with their results."
Team participants planted several varieties/brands of soybeans. However only the Stine soybeans were seed treated with Stoller's Bio-Forge ST. Eight of the nine plots treated with Bio-Forge ST enjoyed a significant yield boost. In university and field studies, Bio-Forge ST seed treatment is proven to improve seed germination, emergence, early seedling vigor and early nodulation. Overall team members felt it was one of the simplest and most cost-efficient ways to increase yield.
Reflecting on the success of the first summit, Yield Challenge Coordinator Nelson shared, "The enthusiasm to set up teams and develop new crop strategies for 2012 is extremely strong. Partnering with companies like Stoller gives Illinois farmers some new tools to take yields to the next level."
Maximizing the genetic expression of plants, Stoller's proprietary formulations are designed to promote plant vigor while managing excess ethylene and the stress of extreme temperatures, drought conditions, high plant populations, excess moisture—even herbicide damage. They are designed to up-regulate key genes to offset stress, maintain optimal hormone balance, enhance pollination or sugar movement so plants can function to their maximum potential.
About StollerUSA
Headquartered in Houston, Texas and celebrating over 41 years in business, StollerUSA is dedicated to helping producers enhance yields by maximizing genetic expression. StollerUSA 's R&D team is located in an independent research facility allowing them access to the most advanced plant research technology. In addition, close ties with universities throughout the nation offer Stoller's R&D team crop perspective with a regional issues emphasis. Only Stoller products contain Stoller's proprietary technology that is proven to ensure optimum plant growth by maintaining appropriate hormone balance and activity. In combination with proper nutrition and good farming practices, the result is enhanced marketable yield, significant return-on-investment and improved stress tolerance. Validated by Universities nationwide, Stoller's unique formulations outperform traditional products and result in healthier, more productive crops that are better able to achieve their full genetic potential.