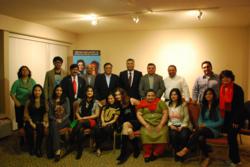 The intimate focus group that gathered last Thursday was an open opportunity for enthusiastic and dedicated viewers to share their passions and insight with the Star Network team.
New York, NY (PRWEB) March 27, 2012
Star Network hosted its very first U.S. Viewers Forum on Thursday, March 15th at the Doubletree Hotel in Somerset, New Jersey. This forum posed as a very unique opportunity for Star Network to gauge the interests and passions of their loyal viewers through direct feedback. Senior management from Star Network came to meet with dedicated viewers by way of a highly interactive session. During this session, both groups shared their viewpoints about content and programming on Star Network's various channels: Star India Plus, Star India Gold, Life OK, and Star News. Star's pioneering initiative to create this unique opportunity proves, yet again, the dedication they have to their viewers to provide superior quality programming, which is catered to their viewers' needs.
The intimate focus group that gathered last Thursday was an open opportunity for enthusiastic and dedicated viewers to share their passions and insight with the Star Network team. The group was comprised of people from all over the state of New Jersey and from all different walks of life. The viewers who attended were able to share all of their likes and dislikes in regards to a wide range of topics from specific content-related issues, to general topics such as Star events. This opportune event gave viewers the chance to voice their opinions straight to the top management of Star Network and in turn, the participants of the forum were assured that all of their concerns were heard and would be addressed accordingly. The participants of this Viewers Forum are now brand ambassadors who have special privileges and perks in association with their title. These brand ambassadors will gain the opportunity to attend future forums and will also have the opportunity for special invites to Star events and programs.
This initiative by Star, to connect with their viewers on a more intimate level, is the beginning of their quest to create an ideal network, which is reflective of their viewers' visions. The emotional connection that many viewers have towards daily programming that is offered by Star may be represented by what one spirited brand ambassador said during the forum, "The characters on all the shows have become a part of my life as imaginary friends, whom I look forward to meeting with each day." Star aims to garner more information and effective feedback in upcoming forums, which they will be conducting in Chicago, California, and Texas. In doing so, the Star Network hopes to cater their programming to their viewers to a more finite level by improving their network, channels, and their programming to create an ideal network that is representative of their diverse viewer population.
About STAR
STAR India, the leading Media and Entertainment conglomerate, has the highest reach amongst the country's broadcasters, beaming to over 400 million people, every week across India and over 65 countries across the globe. Its portfolio includes 33 channels in eight languages, including STAR Plus, STAR One, STAR Gold, Channel [V], STAR Jalsha, STAR Pravah, STAR World, STAR Movies, STAR Utsav; along with the joint venture channels Asianet, Asianet Plus, Vijay TV, Suvarna, STAR News, ESPN and STAR Sports. STAR India also manages a portfolio of business ventures including DTH operator Tata Sky; Content Aggregator MediaPro; News Channel operator MCCS; Film Production and
Distribution Business Fox STAR Studios India and STAR CJ Home Shopping.
STAR US: News Corp Star US LLC is one of the largest distribution network and leading choice for South Asian channels available in Hindi in the U.S. The channel portfolio in the U.S. includes Star India Plus, Star India Gold, Star One and Star News available through both satellite and cable platforms.
News Corp Star US LLC is a wholly owned subsidiary of News Corporation.
Website: http://www.startv.com/usa.