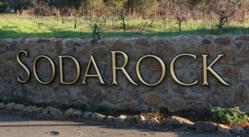 I've always admired Jim Rowe and the Pezzi King wines, especially the estate Zinfandels.
Healdsburg, CA (PRWEB) March 27, 2012
Ken and Diane Wilson, proprietors of Soda Rock Winery, the best winery in Sonoma, Wilson Winery in Dry Creek Valley and the Wilson Artisan Wineries of Healdsburg have come together to purchase Pezzi King Vineyards, a 137-acre estate on West Dry Creek Road in Healdsburg. The acquisition reaffirms Soda Rock Winery as one of the best wedding venues in the area, and may add a new venue to the Wilson mix of properties.
Pezzi King is an ideal match for the Wilson family's style of producing small quantities of high-end, handcrafted wines. They rely on personal relationships with their clientele, and encourage that with private wine club participation. The heart of the purchase remains the vineyards of 65 acres of world-class zinfandel and cabernet sauvignon, which defines the Wilson's commitment to producing only the finest wines possible.
"I've always admired Jim Rowe and the Pezzi King wines, especially the estate Zinfandels," Ken Wilson, owner and creator of Soda Rock Winery, said. "Pezzi King changed the way we looked at Zinfandel and turned the local winemaking world upside down with its 1995 Zin. Its rich, jammy, and fruit-forward style became the new standard of excellence in Zins."
The Wilson family intended to retain the Pezzi King name, their winemaker Chris Barrett, other employees, and the Old Roma Station offices. They represent the same ideals as Soda Rock Winery, which are to provide the best wines in northern Sonoma County. The Wilson Artisan Wineries now include five Sonoma County wineries such as Wilson Winery and Mazzocco-Sonoma in Dry Creek Valley, Matrix in Russian River Valley, deLorimier and Soda Rock in Alexander Valley, and Jaxon Keys Winery in Mendocino County.
To learn more about the Wilson family, their wine making, or information on a winery wedding, visit Soda Rock Winery's website at http://sodarockwinery.com/ or contact them at 707-385-9280. The winery is located at 8015 Hwy 128 in Healdsburg.
About Soda Rock Winery
Soda Rock Winery is nestled in Sonoma's County's scenic Alexander Valley. This extraordinary venue offers locals and tourists alike the opportunity to enjoy a perfect wine-county experience, while providing a delicious array of wines, as well as providing a historic winery facility for wedding venues and other social gatherings.