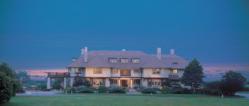 BREWSTER, Mass. (PRWEB) March 28, 2012
Say goodbye to winter and be the first to soak up the sun at Cape Cod's newest luxury accommodations during April Vacation. Ocean Edge Resort & Golf Club, Cape Cod's leading family vacation destination, today announced the "Enjoy Your Play April Vacation Package," available April 13-22. One Bedroom Villa rates start at $139 per room, per night, for a family of four, or guests can be the first to enjoy Ocean Edge's newly renovated luxury Mansion Wing guest rooms for $195 per room, per night.
"Enjoy Your Play April Vacation Package" includes day and night outdoor and indoor activities for the entire family. Kids can enjoy Ocean Edge's famous Golden Bear Junior Golf School, family golf tournaments and junior tennis clinics. Families can swim in Ocean Edge's two indoor pools, which will host daily parties and kid's water activities, and can participate in family softball games, ultimate Frisbee and Family Olympics on the sprawling front lawn. Bike rentals are available on-site with access to the 26-mile Cape Cod Bike & Rail Trail, which runs through the resort. In addition, children can enjoy programs such as Project Runway, in which they design their own fashions; a decorate-your-own-cupcake bar; scavenger hunts; and hip-hop classes. A game room will be open daily with XBOX Kinect and family-friendly movies.
While children fill their days with activities, adults can have some fun of their own with Ocean Edge's adult-only offerings. These include cooking demonstrations by Executive Chef Phil Flath, wine and chocolate tasting, tennis clinics and round robin matches, morning swims and fitness classes like yoga, water aerobics and spinning.
Ocean Edge's renowned breakfast buffet will be served each morning at the Ocean Terrace Restaurant, and lunch and dinner - a children's buffet and adult daily dinner specials - will be served at Bayzo's Pub and at the Linx Tavern. During their getaways, guests can also enjoy the quaint town of Brewster, including the Brewster Bookstore and Brewster General Store, and visit the Cape Cod Museum of Natural History, which will host art programming Monday through Friday at 1 p.m.
Ocean Edge has just completed the first phase of a $5.3 million renovation that features a complete overall of all 90 guest rooms included in The Mansion guest rooms, adjacent to the turn-of-the-century Victorian-style Nickerson Mansion. The renovated rooms, which come alive with details recalling nostalgia of Cape Cod vacations, had interior design provided by Linda Snyder Associates, Inc., the acclaimed interior design firm based in Torrance, Calif.
"Enjoy Your Play April Vacation Package" can be booked online or by phone at (800) 343-6074; please request rate code "April Vacay."
About Ocean Edge Resort & Golf Club
The 429-acre Ocean Edge Resort & Golf Club is located in the quaint town of Brewster, on Cape Cod, Mass. The centerpiece of Ocean Edge is the historic Nickerson family Mansion and Carriage House that sits on a bluff overlooking Cape Cod Bay. Ocean Edge Club is one of only a few private golf course clubs on Cape Cod. The course is available to members and hotel guests, who have exclusive access to the resort's recreational and social privileges. In addition to the Nicklaus Design golf course, the resort boasts a 700-foot private beach, four outdoor and two indoor swimming pools, a USPTA-certified tennis complex, fitness and cardio rooms and three restaurants, including the Ocean Terrace bar and restaurant in the back of the Mansion with sweeping views of Cape Cod Bay. Ocean Edge is on the 26-mile Cape Cod Bike and Rail Trail route, with bike rentals available on property. In 2009, Ocean Edge opened the Mansion Ballroom, Cape Cod's newest and largest luxury ballroom that can accommodate groups of up to 300 people. For more information please visit http://www.oceanedge.com.