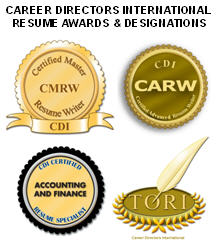 Resume writing is a dynamic, ever-changing industry. If a resume writer does not continually improve their resume writing skills, then their value to the job seeker becomes obsolete.
Melbourne, Florida (PRWEB) March 28, 2012
An Internet search for the term 'resume writer' returns a staggering 6 million listings. But can finding a truly talented resume writer really come down to search engine ranking or is that more SEO than resume expertise?
The challenge to job seekers becomes how to dig through all the noise – resume mills, resume certification mills, unskilled writers, fake credentials, slick websites, and even those with limited language skills – and find a truly skilled and talented resume writer who will make a big difference in the job search.
Career Directors International (CDI), a global association of resume writers and career coaches, receives hundreds of calls and emails from job seekers who found what appeared to be a qualified website for resume services and then experienced the horror of one of the following: dealing with someone with broken English skills, having no personalized contact with a resume writer for a questionnaire or conversation, receiving back a resume which was little more than a bad typing job, or worse, getting no resume for their investment despite repeated follow up.
A representative at CDI states, "It's truly heartbreaking to speak to someone who has invested several hundred dollars and found themselves with little more than a badly-written fact sheet that resembles a resume from 20 years ago. Like every industry there are some people who see an opportunity to prey on those who are seeking help, but that is not the breadth of this industry industry. CDI represents dedicated and professional resume writers who are committed to being at the top of their game to help job seekers succeed.
In fact, a resume writer simply cannot win one of CDI's coveted TORI awards or earn one of their top resume writing designations, which include the Certified Master Resume Writer, Certified Advanced Resume Writer, and Certified Resume Specialist without proving they are the best of the best today. Further, such designations are not maintained without continuing education. This is a dynamic, ever-changing industry, especially with how social search and the Internet have changed so much of how job search works today. If a resume writer does not continually improve their resume writing skills, then their value to the job seeker becomes obsolete."
Finding a gold-standard resume writer does not have to be a challenge or a heartbreak. CDI has members around the world who have gone through the rigorous process of proving their merit by attaining a CDI resume writing designation or award.
CDI has developed a list of key criteria that will help job seekers to select the best resume writer or career service provider to assist them. A few highlights include

Look for resume certifications that require continuing education to maintain.
Search CDI's member database by credential for a Certified Master Resume Writer (CMRW), Certified Advanced Resume Writer (CARW), or Certified Resume Specialist (CRS). These are the resume writers who have been held to the highest standards the resume industry has to offer, and who have proven themselves the best of the best.
Select a recipient of one of two coveted industry resume writing awards, both of which are offered exclusively by CDI.
These awards include The World's Best Resume Writer competition and the annual Toast of the Resume Industry (TORI) awards, which is now in its 11th year. highest marks of talent in resume writing and job seeker marketing to be attained.
Review references and testimonials of the resume writer, lokoing for ones that stress actual outcomes of their clients and not just fluff.
Perform an Internet Search of the resume writer. Bottom line, if a job seeker wants to quickly assess what there is to know about any service provider in any industry, use a well-known browser like Yahoo or Google to search for them by name. Such a search will find articles, social networks, photos, complaints, blog posts, and more.
Again, these are just a few of the areas a job seeker can evaluate to ensure they are contracting with a highly qualified resume writer. For more topics like Guarantees, Product Samples, Industry Recognition, and Specialization, visit CDI's Job Seeker section.
About CDI: Career Directors International – http://www.careerdirectors.com
CDI is a global professional association that is committed to ensuring that career and resume professionals can grow and thrive in a rich, vibrant, exciting, safe, and nurturing environment. CDI is focused on championing the industry's cause for credibility and visibility; fostering exceptional success in every generation of career and resume professionals; and cultivating the career superhero that exists within each one of us.