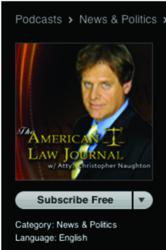 There are plenty of times an employer will attempt to use surveillance or Facebook as evidence
Philadelphia, PA (PRWEB) March 30, 2012
There used to be a time when the only way a workers compensation insurance carrier might catch a worker fibbing about their job injury was through surveillance. That still happens. But today, all an employer might need is to go to the injured employee's Facebook page.
Monday, April 2, 2012 at 7:00 p.m. on the Philadelphia CNN-News affiliate WFMZ-TV, The American Law Journal presents "Social Media, Surveillance and the Injured Worker."
Joining host Christopher Naughton are claimant's lawyers George J. Badey, III of Badey, Sloan & DiGenova and Halmon L. Banks, III of Martin Banks, respondent's counsel Anthony P. Salvino of White & Williams and Workers' Compensation judge the Hon. Joseph Hakun.
"There are plenty of times an employer will attempt to use surveillance or Facebook as evidence," says Badey. "More often than not, we have a defense. Still, it makes things harder and I tell clients to be careful. If you are injured and you write on Facebook 'having a wonderful time at Disney World,' that can create a problem even where there is none."
The American Law Journal is the weekly talk-feature program on the CNN News Affiliate for Philadelphia, WFMZ-TV 69. View programs, schedules, and lawyer profiles on http://www.LawJournalTV.com. Video podcasts are also available on iTunes. Viewers with questions on this topic and for future workers compensation programming can write info(at)lawjournaltv(dot)com.
Next week: "Graying Divorcees—Breaking Up After 50."