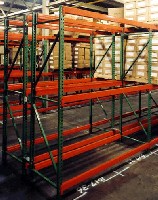 Providing The Best Warehouse Racks To Our Customers
Boston,MA (PRWEB) March 27, 2012
It is springtime. The birds are singing, the bees are cross pollinating, and warehouses need spring time organization. A Plus Warehouse if offering a five percent discount on all racking orders through the end of April 2012. Refer to the spring cleaning warehouse racks offer when ordering, and the five percent will be taken off the normal price. As usual, this offer can not be combined with any other offer. A Plus Warehouse is offering this promotion to encourage customers to organize warehouses, and therefore increase efficiency and make fewer errors. Money spent wisely on warehouse racks and warehouse racking is self liquidating. The money saved through fewer errors pays for the equipment, and then some.
There are several types of warehouse racks sold at A Plus Warehouse, and each of them is covered. According to Ed Stairman, "Spring Season is Warehouse Rack Season. We'll make this a record year providing the best warehouse racks to our customers." With A Plus Warehouses warehouse rack lines, Mr. Stairman's prediction should prove true. Here are the various items covered by the promotion:
Cantilever Racks – Used in lumber yards and where ever full width storage is required. A Plus Warehouse offers fine cantilever racks by Modern Equipment Company, Jarke, and Lyons Work Space as well. Edsal Manufacturing of Chicago also has a line of cantilever racks.
Pallet Racks – A Plus Warehouse sells teardrop and keystone pallet racks by Wireway Husky and others as well. Penco Products makes a fine pallet rack as well. A Plus Warehouse is one of the few dealers showing ultra heavy duty structural pallet racks online.
Bulk Racks – A Plus Warehouse sells the entire Durham line of bulk racks. Other brands include Parent Metal and Scotland Rack as well. Tennsco from Tennessee makes a great line of bulk racks as well.
Wide Spa Racks – These are similar to bulk racks, but have a slightly higher capacity.
River Racks – The bolt less shelving units are actually shelving, but A Plus Warehouse will consider them racks for the purpose of this promotion One thing to remember about bolt less shelving is that most bolt less shelving is imported. Hallowell remains a domestic manufacturer of bolt less shelving.
A few words on A Plus Warehouse:
A Plus Warehouse is a master distributor of warehouse racks and other material handling equipment. A sub-specialty is storage cabinets