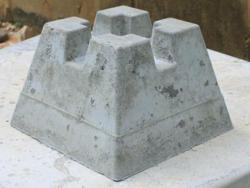 Handi Block Deck Piers are an easy to use, tested and certified, cost-effective alternative to traditional deck blocks.
(PRWEB) March 27, 2012
Parksite, has expanded their existing distribution and marketing partnership with Evolve Composites to now be sold from distribution centers in CT, FL, NJ, & MD. Evolve's Evo-Crete Technology continues to build momentum and set new standards for Ultra Light Weight concrete products. Evolve's Handi Block Deck Piers are an easy to use, tested and certified, cost-effective alternative to traditional deck blocks that provide the necessary strength and durability at up to 1/3 of the weight.
"The Handi Block product has experienced huge success and continues to be the cornerstone of Evolve's Evo-Crete operation across North America," said Evolve Composites CEO Martin Bristow. "Handi Blocks have proven to be a popular, multi-purpose foundation block for a range of home improvement projects including decks, patios, garden sheds, and more. Handi Block is an effective alternative to digging holes, mixing concrete and waiting for it to set before being able to complete a project. Furthermore our Evo-Crete technology provides all of the necessary strength at a significantly reduced weight. Our Handi Block Deck Piers weigh in at a nominal 18 pounds while other traditional concrete deck piers can weigh as much as up to 48lbs."
In relation to Evolve's growing relationship with Parksite, Bristow adds "We've always been impressed with Parksite's eye for innovation. They are the perfect complimentary partner to our overall philosophy and strategy. Their existing network of dealers provides the next logical expansion avenue for Handi Block Deck Piers."
"Evolve's Handi Block is another innovative building product that fits perfectly into our product offering and falls right in line with our history of solution-based products. This product will allow our customers to offer builders an easier and more efficient way to build decks," adds Jim Daniels, Vice President of New Products for Parksite.
Evo-Crete is Fiber Reinforced Cellular Concrete, which creates a dynamic cellular structure with fiber reinforcing to provide extreme strength and durability while being up to three times lighter than traditional aggregate based concrete. Other Evolve Composite products utilizing Evo-Crete technology include Evo-Crete & Evo-Lite HVAC Equipment pads, Evo-Crete Hurricane Pads, Evo-Block Garden Blocks, Evo-Steps Pavers, Evo-Crete Generator Pads and more.
Parksite is an employee owned company that provides a combination of direct sales, market development and progressive distribution services within the building materials supply chain. We recognize that each customer, manufacturer and product has unique requirements and we customize our services to meet those needs. Parksite defines its position in the supply chain by investing resources in activities that result in accelerated market acceptance of new products. More information about Parksite and its products are available at http://www.parksite.com.
Evolve Composites is a Columbia, Maryland based company with manufacturing plants in Maryland, Alabama and Florida along with a national sales and marketing office and distribution point in Houston, Texas.
For more information, call 1-866-751-4779 toll free or visit http://www.evolvecomposites.com.