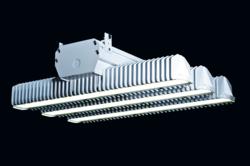 The H-Series fixture is a significant, industry advancement for High Bay LED fixtures
(PRWEB) March 27, 2012
Albeo Technologies Inc., a leader in solid-state industrial and commercial LED lighting, announced today its H-Series High Bay LED fixture has won two 2012 Architectural SSL Magazine Product Innovation Awards (PIA.) The H-Series was recognized both in the High Bay Category and one of six in the Special Citations category as the most innovative optical and control system.
The H-Series high bay fixture from Albeo is the only LED fixture of its kind to scale from one to 12 LED light bars. This modularity provides a lumen range of 6,500 to 77,000 within the same product family which is equivalent in light output to arrays of two to 24 fluorescent tubes.
"Architectural SSL is a leading voice in the solid-state lighting industry and we are honored to receive the award," said Jeff Bisberg, CEO of Albeo Technologies. "The H-Series fixture is a significant, industry advancement for High Bay LED fixtures and we are thrilled with the recognition from Architectural SSL."
The Architectural SSL Product Innovation Awards (PIA) recognizes innovative LED and solid-state luminaires and fixtures on the market. With judging and evaluation of products and systems from a distinguished panel of 24 designers and lighting specialists, the Architectural SSL PIA program awards manufacturers based on attributes, qualities, functionality and/or performance beyond industry standards.
"Building on the success of last year's inaugural program, our second edition of the awards proves lighting manufacturers are committed to solid-state lighting technology and are working arduously to deliver better performance, reliability and affordability," said Jim Crockett, Editorial Director – Architectural SSL Magazine.
Albeo products currently light over 7 million square feet of industrial and commercial space and are known for their fully customizable solutions. Such modular innovations can reduce energy use up to 95%, maximize functionality, and reduce maintenance costs.