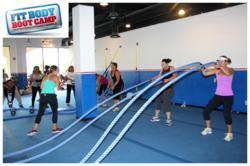 "Boot Camp has changed and saved my life." Don H.
Chino Hills, CA (PRWEB) March 29, 2012
In reflecting on Fit Body Boot Camp Chino Hills's One Year Anniversary, Cara Eckerman has seen the positive impact that her fitness boot camp has made in the lives of many of her clients. For the past year, clients have come to her Chino Hills Boot Camp for fitness exercise and help in losing weight. Many of those clients have also had additional health issues such as high blood pressure, high cholesterol, and lower back and foot pain that have affected their overall health. "Unfortunately, many of my new clients come to me with some health issues that are directly associated with being overweight," says Cara. "I opened a Fit Body Boot Camp because I wanted to positively impact people's lives."
For many people, joining a boot camp isn't just a lifestyle a choice, but it can be a life-saving solution. Being overweight doesn't just affect how a person looks, but it also affects their internal health.
50-year-old Don Hartzheim was one of those lives that have been positively impacted. When Don first joined Fit Body Boot camp Chino Hills, he weighed 300 pounds and had high blood pressure, very high cholesterol, triglycerides, and lower back and foot pain caused by the extra weigh he was carrying. "I had little to no energy and when I did anything strenuous, I would tire easily and at times have trouble breathing," says Don. "My self-esteem was very low and I skipped many social events because I did not feel good about myself."
Don's physician said that at the rate Don was going, he would eventually get Type 2 diabetes and would be lucky if he lived to see his 60th birthday. This was a wake-up call for Don.
Since joining Fit Body Boot Camp Chino Hills, Don has received the motivation and accountability needed to lose 70 pounds. He is going to be running his first 5K this month. "Boot Camp has changed and saved my life," adds Don. "From my first day at the Chino Hills Boot Camp, I got all the support and help I needed. They have taught me proper nutrition and keep me motivated."
Cara and John Eckerman were also recently awarded Fit Body Boot Camp's Achievement in Excellence Award, which is given to the top Fit Body Boot Camp Owners based on clients results, quality of service and the impact on the Community. This is a great achievement given their short amount of time being in business.
To find a Fit Body Boot Camp location near you, please check the Fitness Boot Camp directory at http://www.fitbodybootcamp.com
Fit Body Boot Camp is one of the fastest growing fitness boot camp franchise companies. It was developed by 2 industry leaders in the fitness industry. Fit Body Boot Camp Owners currently train approximately 400,000 boot campers on an annual basis. To find out more about owning a Fit Body Boot Camp franchise, you can contact us at opportunity(at)fitbodybootcamp(dot)com or on (888) 683-3222 ext. 1.