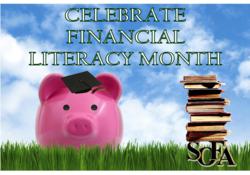 (PRWEB) March 27, 2012
Join The Society for Financial Awareness (SOFA)'s Financial Literacy event, Why Dollars Need to Make Sense; in celebration of Financial Literacy month in April. The event will be held on Wednesday, April 25, 2012 from 5:30pm-7:30pm at the Cooley Godward, LLC Law Group facilities in UTC. SOFA's Financial Literacy event is focused on raising awareness and funds to help Schools in the community of San Diego to provide the seed money and curriculum for financial literacy programs right here in our community, right now to benefit both adults and adolescents.
SOFA has been providing financial literacy workshops in San Diego, for companies, churches and organizations since 1993. In 2005 SOFA began to present their workshops nationwide and since then, have helped 1,000's of people in over 48 states become more financially secure. SOFA has presented at: Disney, NASA, the F.B.I., Intuit, SONY, the U.S. Mint, City and County Governments and many more.
SOFA will present several high profile keynote speakers to share their thoughts on financial literacy needs and future initiatives in support of providing financial literacy programs in the community and will be releasing the official agenda later this week. SOFA's Financial Literacy event is expecting a large turnout and will also be hosting a fundraiser throughout the Month of April. The proceeds from the fundraisers will be donated to the San Diego Unified School District.
SOFA is also currently accepting Sponsorship Applications for their Platinum and Gold sponsor levels which include lots of exposure at the event and media attention.
Be sure to contact SOFA for the official agenda and secure your place to attend this great event Why Dollars Need to Make Sense.
Contact Sarah Carlson (858) 268-7091 scarlson (at) sofausa (dot) org for more information on sponsorship or any other inquiries regarding this event.