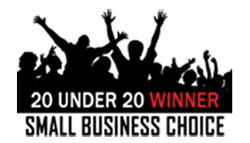 We awarded APS Payroll this award because they are a company that provides accurate, money-saving, cloud-based payroll solutions to small businesses.
Shreveport, LA (PRWEB) March 27, 2012
APS Payroll, a provider payroll outsourcing services solutions, has been awarded the "Small Business Choice" award in the 20 Under 20 Awards, the First Annual BuyerZone Review which honors the most impressive small businesses in America. BuyerZone, an online small business resource center, awarded APS Payroll for its focus on improving client experiences by investing in innovation and product improvement.
In the 20 Under 20 Awards, BuyerZone describes APS Payroll as a "cutting-edge" company that provides "accurate, money-saving, cloud-based payroll solutions." BuyerZone highlights the company's "strategy of paying attention to customer needs and desires" as the primary reason for this award.
In addition to publicly honoring the twenty most outstanding small businesses in America, the 20 Under 20 Awards are meant to highlight businesses that exemplify today's ideal small business values.
These small business values include:

The ability to welcome innovation and change
The focus on customers' success
The ability to reserve a portion of time and resources for community and nonprofit work
The shared goal of creating results
The focus on collaboration and teamwork
About APS Payroll
APS Payroll is a national workforce management and payroll tax compliance provider committed to delivering value through flexible cloud technology and individualized support. APS's cloud-based SaaS solution provides payroll, HR, time keeping and employee self-service in a single platform which can adapt to meet changing customer needs. For more information please visit http://www.apspayroll.com or call 888-277-8514.
About the 20 Under 20 Awards
The BuyerZone 20 Under 20 Awards were released in March 2012 on BuyerZone.com, to coincide with the company's twentieth year of operation since being founded in 1992 by its current President, Mie-Yun Lee. Award winners were nominated by the public, then reviewed and selected by BuyerZone editorial staff. Winners were chosen for their impressive work in categories such as: customer service, innovation, results, community work, philanthropy, customer engagement, business strategy, and originality.