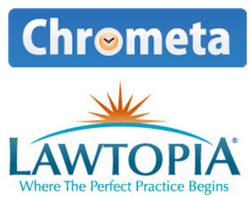 "Chrometa is a tremendous tool for those that need to keep an accurate record of their day-to-day tasks."
Sacramento, CA (PRWEB) March 27, 2012
Chrometa LLC, creator of automatic time tracking software, today announced they are joining forces with Lawtopia, a partnership of ten of the most respected legal technology service providers in the country, to deliver time capture software to law firms across the US.
Chrometa is a simple program that runs in the background of your computer and automatically tracks the time you spend performing different tasks, such as drafting emails, creating a word document, or compiling a spreadsheet. For attorneys in particular, Chrometa makes it easy to capture billable work and meet, or even exceed, firm quotas.
"We surveyed 500 solo practitioners and small firm attorneys and learned that, on average, they are currently accounting for only 67% of their legitimate billable time," says Brett Owens, CEO and Co-Founder of Chrometa. "This means that a firm with $1,000,000 in gross billings could be losing as much as $300,000 a year, or more, for work they performed but never billed the client for."
"We are thrilled to partner with Lawtopiato help law firms capture more legitimate billable time, while reducing valuable overhead time and resources that is currently being spent trying to chase down this lost time," Owens continued.
"Chrometa is a tremendous tool for those that need to keep an accurate record of their day-to-day tasks." said Jeffrey S. Krause Esq., Partner of Lawtopia. "Working with Chrometa gives Lawtopia the opportunity to continue to support and improve the legal profession by eliminating barriers to efficiency and profitability."
The partnership establishes Lawtopia as an official Chrometa reseller. They also support Chrometa at a higher capacity by providing integrations with existing legal-specific practice management and billing systems.
About Chrometa LLC
Headquartered in Sacramento, Calif., Chrometa, LLC, creates software that acts as your very own personal timekeeper. Chrometa's time tracking tools are used by attorneys and other professionals to enhance revenue and gross billings, and spend less time reconciling time.
Please visit http://www.chrometa.com for a free trial of Chrometa's proprietary time capture technology.
About Lawtopia
Lawtopia is a nation-wide team of Attorneys, CPAs and IT experts focused on driving law firm efficiency and profitability. Lawtopia supports a range of industry leading legal technology products and services including practice management, billing and accounting, document management, document automation, cloud solutions, and more. With 10 offices throughout the U.S., Lawtopia serves law offices, of counsel, legal departments and government organizations across the nation. Visit http://www.lawtopia.net, email solutions(at)lawtopia(dot)net, call 1-866-306-9007 or follow on Twitter @lawtopiallc.