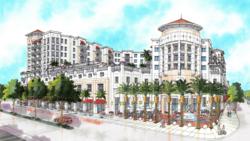 "We are thrilled with the opportunity to expand this exciting project and believe strongly it is the best product in the best location in the greater Miami area", said David Fitch, Gables Residential President and CEO. "
Coral Gables, Florida (PRWEB) March 27, 2012
Gables Residential, a leader in the development and management of multifamily communities, announces plans to expand Gables Ponce, a luxury 10-story, 370-unit, mixed-use project located at the northeast corner of LeJeune Road and Ponce de Leon Boulevard. The site is adjacent to Merrick Park Village, the gateway to the exclusive Coral Gables community.
Gables Ponce, a highly anticipated mixed-use community, will begin to deliver the first of 370 luxury apartment homes late this year. "We are thrilled with the opportunity to expand this exciting project and believe strongly it is the best product in the best location in the greater Miami area", said David Fitch, Gables Residential President and CEO. "This comes at a time when rentals are resurging and demand continues to increase as the new supply of rental apartments has been extremely limited, particularly in the Coral Gables submarket."
The location of Gables Ponce is highly desirable due to its proximity to Miami International Airport, University of Miami, downtown Miami, and the highly successful Merrick Park Village. This neighborhood is also convenient to entertainment, world class restaurants, rich cultural offerings and a broad range of retail establishments. Coral Gables also has a vintage style trolley connecting many of the commercial districts and the Metrorail, the regional transit system.
"Gables Ponce will be one of the most desirable residential locations in the Miami area with top of the market amenities, first-class services, and close proximity to a variety of attractive retail and lifestyle conveniences", noted Gables Residential Senior Vice President and Executive Director of Operations, Cris Sullivan.
Last May, Gables broke ground on the 10-story Class A, mixed-use Gables Ponce project which at the time was 250-units and 26,000 square feet of ground floor retail. An adjacent site became available which allowed Gables the ability to integrate another 120 apartment homes. The project architecture reflects a Mediterranean design and incorporates natural elements to maintain the authentic flavor of Coral Gables. Coralina stone, imported from the Dominican Republic, is being used on the exterior façade and is reminiscent of the actual stone used on many buildings in Coral Gables, including the historic City Hall.
The new community, consisting of adjoining residential towers, will feature a host of expansive amenities. In the main building residents will enjoy an impressive Infinity Edge pool on the fifth floor that will be flanked by water features and private cabanas. A state-of-the-art fitness center will offer strength and conditioning equipment, cardio machines as well as a yoga/pilates room, spin classroom and locker rooms. A club/multipurpose room and sports/wi-fi café will also be located on the fifth floor. The spa area will be situated in the second building and will feature a wet room and spa treatment rooms that will lead to an outdoor reflection pool. A concierge will be on staff to assist all residents.
The general contractor is Facchina Construction of Florida, LLC, and the project was designed by Coral Gables-based Behar Font & Partners, P.A., one of South Florida's leading architectural firms specializing in luxury rental and residential housing properties.
The project will begin pre-leasing efforts in October 2012 with delivery of the first apartment homes in December. Both buildings are slated for completion in 2013. For more information please visit gables.com/ponce or call (561) 999-4084 to register and be placed on the VIP interest list. Those registered will receive periodic updates and leasing details as they are announced.
About Gables Residential
With a mission of Taking Care of the Way People Live, Gables Residential has received national recognition for excellence in the management, development, acquisition and construction of luxury multi-family communities in high job growth markets. Gables Residential owns, develops and manages multi-family communities and mixed-use developments in Atlanta, Austin, Dallas, Houston, South Florida, Southern California, and metropolitan Washington, D.C. Additionally, it has third-party management operations in the Chicago, New York, Boston, Phoenix, Central and North Florida, and Washington State markets. Gables Residential enjoys a healthy portfolio with approximately 37,000 apartment homes under management, including a corporate-owned portfolio of 55 stabilized communities comprising approximately 14,400 apartment homes. An additional 7 communities are under development/lease-up, comprising approximately 2,000 apartment homes. Gables also has the ability to develop another 2,000 apartment homes through its shadow pipeline of undeveloped land owned. For more information please visit http://www.gables.com.