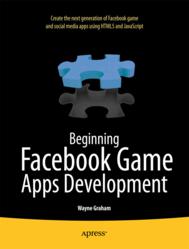 New York, NY (PRWEB) March 28, 2012
Social media, including Facebook, is driving today's fastest innovations. With that, everyone today seems to be creating Facebook game applications. Apress author Wayne Graham has written Beginning Facebook Game Apps Development with first-time Facebook game application developers in mind— the creative individuals who have the ideas for the next generation of Facebook games. This book is the first tutorial on the market to focus on Facebook game application development for novice programmers.
Graham, also the author of Facebook API Developers Guide, teaches users how to utilize HTML5 and JavaScript frameworks to create their first ever Facebook game apps. To further develop ideas, Graham illustrates how to utilize social media and location-based features to improve the game app experience. Developers are lead through the process of designing, implementing, and deploying their games to the Facebook platform.
Integrating browser-based games with the Facebook platform provides developers with a powerful set of social tools to integrate into their game through a set of well-designed APIs. Additional topics include engaging with users, growing a user base, and analyzing usage patterns, which allow developers to focus on their audience while developing their game apps.
This title is recommended for those that are new to Facebook game app development or even those that are new to app development in general.
A basic knowledge of HTML5, JavaScript, CSS and PHP is helpful with the process.
For more information on "Beginning Facebook Game Apps Development, visit http://www.apress.com/9781430241706.
*ISBN 978-1-4302-4170-6
*400 pages
*User Level: Beginner to Intermediate
*Publication Date: March 28, 2012
*Available eBook Formats : EPUB, MOBI, PDF
*Print Book Price : $39.99
*eBook Price: $27.99
About the Author
Wayne Graham is the head of research and development in the Department of Digital Research and Scholarship at the University of Virginia Libraries (a.k.a. Scholars' Lab), and is passionate about open source, web application technologies, and their application to research in the humanities.
About Apress Media
Apress Media LLC is a technical and business publisher devoted to meeting the needs of IT professionals, software developers, programmers, and business leaders with more than 1,000 books in print and electronic formats. Apress provides high-quality, no-fluff content that helps serious technology professionals build a comprehensive pathway to career success. For more information about the innovative approach Apress takes to publishing, please visit http://www.apress.com.