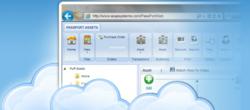 With the release of our new cloud-based Passport Assets software solution, our customers now have the choice between our best-in-class on-premise asset tracking application or our new Software As A Service cloud-based solution," says Elie Jean Touma, CEO
San Jose, CA (PRWEB) March 27, 2012
ASAP Systems, the best-in-class inventory and asset tracking software with barcode and RFID solutions, releases the beta version of it cloud-based asset tracking software solution. The beta version is now available to all customers looking to manage their assets via a cloud-based solution.
The ASAP Systems cloud-based asset tracking solution will enable customers to utilize Passport Asset anywhere they have an internet connection on any type of device, whether it is a tablet, smartphone or a mobile barcode or RFID scanner from Motorola.
"With the release of our new cloud-based Passport Asset software solution, our customers now have the choice between our best-in-class on-premise asset tracking application or our new software as a service cloud-based solution," says Elie Jean Touma, CEO of ASAP Systems. "In addition to the release of our cloud-based solution, Passport Assets will still have the self-customization features and modular design that ASAP Systems has become known for, such as Active Directory Integration, QuickBooks Integration, Wireless Synchronization Module, and our Multi Database/Site Module."
ASAP Systems customers span many industries including healthcare, education, manufacturing, and government to name a few. Customers who run legacy, paper-based, or accounting based asset systems benefit most from ASAP Systems barcode and RFID-based solutions, with immediate improvements in the tracking and management of assets. ASAP Systems customers report improved accuracy, reduced errors, and increased control that translate directly into cost savings. ASAP Systems' technology solutions ensure businesses can focus on what it does best while Passport provides the operational efficiencies to generate the highest return on investment.
About ASAP Systems
For over 26 years ASAP Systems has been providing proven barcode and RFID solutions for automated data collection and tracking of assets, items and inventory to some of the world's premier enterprises in virtually every major industry. ASAP Systems brings tremendous depth in consultative solution expertise and an exceptional, combined solution of software and barcode equipment to companies looking to manage the inventory aspects of their business. ASAP Systems is in a continual state of research and development bringing only the very best to our customers - carefully testing and proving new technologies as they emerge to ensure that they can meet the real world demands of our customers. Through many years of experience with a vast range of unique customer requirements ASAP Systems has developed an unmatched expertise in customizing solutions to fit almost any budget, technical or user requirement and provide systems which are extensible enough to grow and change with an organization. The number one goal at ASAP Systems from sales through technical support is customer satisfaction - guaranteed.
For more information visit ASAP Systems at http://www.asapsystems.com or contact:
Mike Bruno
Vice President of Business Development
Phone: 408-960-7349