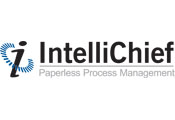 Mansfield, MA (PRWEB) March 27, 2012
IntelliChief LLC, the leading provider of document management and document imaging solutions for the IBM I (System i, iSeries, AS/400) Enterprise, plans to participate in the IBM i Essentials Virtual Conference presented by System iNetwork. The conference will take place on April 5, 2012 with doors opening at 9:30am ET.
The IBM i Essentials Virtual Conference is a free, one-day event where registrants have the opportunity to attend informational sessions on the most exciting topics in the IBM world. Without leaving their desks, attendees can download slide presentations, view solution demonstrations, and network with peers and industry experts.
As an exhibitor at this exciting event, IntelliChief welcomes attendees to check in on the IntelliChief virtual booth to discuss document management solutions and gain access to their resource library. IntelliChief allows companies to eliminate paper and reduce costs associated with manual paper centric processes like approval routing and purchase order/invoice matching.
IntelliChief encourages people to gain the necessary knowledge to keep pace with the emerging trends in IT by registering for the IBM i Essentials Virtual Conference at: http://www.intellichief.com/about/events.aspx.