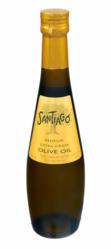 Providencia, Chile (PRWEB) March 27, 2012
Olisur®, Chile's leading olive oil producer and the makers of O-LIVE & CO™ extra virgin olive oil (EVOO) and Santiago Premium EVOO, is gearing up for olive harvesting season. Unique in their methods, Olisur will use modern agricultural techniques to ensure their high-quality EVOOs not only serve up their distinctive two-hour fresh guarantee, but remain available at a more accessible value.
In Chile, olives are harvested for oil in May and June, the country's late fall/early winter. Chile's Colchagua Valley, where Olisur's olive groves and mill, or almazara, are located, is known for mild, wet winters; ideal conditions for ripening olives slowly and intensifying their flavors.
This season, as in every harvest season since they were established in 2005, Olisur's ten varieties of estate-grown olives will be pressed into oil in an updated, cost-effective manner, utilizing high-density growing across 6,500 acres and machine harvesting instead of hand harvesting. This modern, eco-friendly production process ensures that no more than two hours transpire between picking the ripe olives and pressing them into oil.
All extra virgin olive oils are not created equal. Olisur's efficient, rapid process minimizes handling and prevents oxidation. In addition, because the olives are fresher when they are pressed, fewer fatty acids are released, resulting in a low 0.2% free fatty acid (FFA) level in the oil. This level is well below the maximum limit of 0.8% set by the International Olive Council (IOC), an acidity quality standard for any olive oil labeled extra virgin. O-LIVE & CO and Santiago's FFA values ensure no defects negatively impact the taste and freshness of the oils.
Olisur's completely traceable process assures quality is consistent from tree to press to distribution. The brand's commitment to two-hour freshness ensures that consumers around the world receive fresh, high-quality EVOO at a highly competitive value.
To learn more about Olisur or O-LIVE & CO and Santiago Premium extra virgin olive oils, please visit http://www.olisur.com.
Media: for interviews with Olisur executives, please call the contacts listed at the bottom of this press release.
About Olisur®
Chile's leading olive oil producer and a true innovator in the industry, Olisur® produces estate-grown, award-winning extra virgin olive oils with global appeal. Olisur's 100% traceable, vertically integrated production process ensures authentic quality in every bottle, while modern farming techniques yield faster production, a fresher product and a better value overall.
MEDIA CONTACTS:
Diego Romero
McFadden/Gavender
O: (520) 882-6262
M: (520) 401-1693
diego(at)mcfaddengavender(dot)com
Karen Gavender
McFadden/Gavender
O: (520) 882-6262
M: (520) 603-4200
karen(at)mcfaddengavender(dot)com
Website
http://www.olisur.com
###