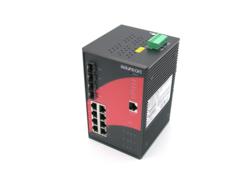 ...one of the most reliable choices for highly-managed and Gigabit Fiber Ethernet applications...
Brea, CA (PRWEB) March 30, 2012
Aaxeon Technologies is proud to announce the release of their new LNP-1204GN 12-port 802.3at Industrial Managed Gigabit PoE (Power over Ethernet) Switch.
The LNP-1204GN features 8 x 10/100/1000Base-T(X) PoE ports and 4 x 1000Base-X SFP ports and can transmit power up to 30 watts to remote devices per PoE port. Along with the standard model, the LNP-1204GN Industrial PoE Switch is also available in an extended operating temperature model (LNP-1204GN-T) that can withstand temperatures of -40°C to 75°C.
With complete support of the Ethernet Redundancy and Rapid Spanning Tree (MSTP/RSTP/STP) protocols, the LNP-1204GN can protect mission critical applications from network interruptions or temporary malfunctions with its fast recovery (< 20ms). The Industrial PoE Switch also provides advanced IP-based bandwidth management and application based QoS allowing you to limit your IP device bandwidth and dynamically control scheduling priorities within the network nodes as you see fit.
The LNP-1204GN boasts many security features such as MAC based port security, port based network access control (802.1x), VLANs, radius centralized password management, and SNMPv3 encrypted authentication and access security in order to provide you with a safe and secure network.
Most functions can be conveniently managed by Open-Vision 3.0 or above, therefore making this switch one of the most reliable choices for highly-managed and Gigabit Fiber Ethernet applications assuring a high quality, and cost-effective solution for your expanding 802.3at applications.
For more information on the LNP-1204GN standard and wide temperature models, please visit our website at http://www.aaxeon.com.
About Aaxeon:
Aaxeon is a developer and supplier of Device Networking and Industrial Communication products. Aaxeon's main focus is to be a leading supplier of products and solutions into the rapidly growing markets of M2M (Machine-to-Machine) and Industrial Ethernet.