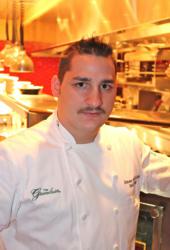 Milan, OH (PRWEB) March 28, 2012
Birds chirping, flowers blooming, and the lush greens of emerging foliage signal that spring has arrived. The vibrant flavors that accompany this beautiful time of year will be skillfully incorporated into Chef Steven Halliday's Earth to Table feast on Saturday, April 21.
"I'm excited and honored to be a part of this great event for two reasons: the flavors of spring take me back to my childhood and , second, of course I'm a chef so I love to cook, and I look forward to the opportunity to share interpretation of the season with guests at The Culinary Vegetable Institute," Halliday explains when asked what participating in an Earth to Table event means to him.
Guests will be treated to the bounty of the spring harvest from The Chef's Garden in Huron, OH. Featured products include may include ramps, asparagus, fiddlehead ferns, baby leeks and delicate squash blossoms. Enhancing the tantalizing flavors of The Chef's Garden vegetables will be smoked spring salmon, free-range organic chicken, and Bear Orchard Farm pork roast.
Looking at the list of amazing seasonal products available to him, one might wonder how Chef Halliday approaches menu planning in the spring. "I chose these menu items for the simplicity of the ingredients. I cook food that I love to eat, and mostly because they're in season."
Each Earth to Table Dinner includes an auction to support Veggie U, a non-profit children's program founded in 2004 by the Jones Family of The Chef's Garden. The program teaches the importance of nutrition and sustainable agriculture by providing interactive lesson plans with a classroom garden kit to elementary schools and special needs students. Over 2,200 Veggie U Classroom Garden Kits have been placed in 29 states. Learn more at http://www.VeggieU.org. Additionally, a percentage of the proceeds from every Earth to Table dinner is designated for the continued support of Veggie U.
This is a concept that really hits home for Chef Halliday. "In my family growing up, we always had a beautiful garden with awesome vegetables that I planted. Now that I have little ones of my own, they too will be planting a garden." These words underscore the importance of educating young children in the areas of healthy eating and taking pride in what you eat, and demonstrate Chef Halliday's personal support of this concept in his own household.
The full menu can be viewed at
http://www.culinaryvegetableinstitute.com/cvi_cms/124.html
At A Glance
What: Earth to Table Dinner with Chef Steve Halliday
When: Saturday, April 21st at 6:30 pm
Where: The Culinary Vegetable Institute
12304 State Route 13, Milan Ohio 44846
How: Call 419-499-7500 for reservations $75 per guest plus tax and 20 % gratuity
http://www.culinaryvegetableinstitute.com/cvi_cms/124.html for more information.
Upcoming Events
May 5 – Chef Jonathon Sawyer of The Greenhouse Tavern, Cleveland, Ohio
June 23 – Chef Nico Romo of Fish Restaurant, Charleston, South Carolina
August 18 – Chef Rocco Whalen of Farenheit, Cleveland, Ohio
September 15 – Chef Vincent Russo of M Bistro at The Ritz-Carlton, New Orleans, Louisiana
October 20 – Chef Tony Dee
November 17 – 2nd Annual Tailgate with a Twist featuring chefs from The Ohio State University and University of Michigan
December 8 – Chef Grant MacPherson of the Viking Range Corporation
About The Culinary Vegetable Institute
Tucked far back off State Rte 13 in charming Milan, Ohio sits The Culinary Vegetable Institute, a renowned retreat and culinary learning center for the best chefs in the world. The concept of the facility was developed in association with The Chef's Garden (just miles up the road) and was intended to foster creativity between chef and farmer. The grounds boast specialty & experimental gardens and are home to one of the finest Food & Wine events in the country. The facility hosts high-end dining experiences open to the public, private events, educational classes, research, and team building experiences. http://www.culinaryvegetableinstitute.com
About Chef Steven Halliday
Chef at Prime 44 West
The Greenbrier
White Sulphur Springs, WV
Steven Halliday, a young chef aiming high with a deep passion for cooking and great respect for his ingredients. A native of southwest Pennsylvania, Steven has achieved his culinary degree from Pennsylvania Culinary Institute located in Pittsburgh, PA. He is inspired by the diligence of his father and the perseverance of the chefs that came before him. His blooming culinary career began at the tender age of 15, working a summer job at a local Country Club. He worked as a dishwasher while studying at a vocational school, during high school. Steven quickly moved up the ranks, becoming a leader in the kitchen in no time.
Aware of his need for more formal training, Steven was encouraged to pursue a new challenge. He decided to take on the rigorous training of The Greenbrier's renowned apprenticeship program. Throughout the program, Steven had worked under a handful of award-winning and master chefs, including CMC Peter Timmins, CMC Fritz Gitschner, CMC Richard Rosendale, and Michael Voltaggio. Assisted in the preparation of Steven Raichlen's book Ribs, Ribs, Ribs by testing recipes before publishing. Upon completing the program, Steven walked away at the top of his class, awarded several medals for cooking competition and ice carving; awarded apprentice of the year 2007. During his time at The Greenbrier, he staged at several restaurants, including Handke's Cuisine with CMC Hartmut Handke in Columbus, Ohio and Charlie Palmer Steak with Chef Bryan Voltaggio in Washington D.C.
Upon graduation, Steven met with award winning Chef Bryan Voltaggio. He earned the opportunity to serve as a Sous Chef and helped open the incredible Volt restaurant, which was featured in Art Culinaire and several other publications. Chef Halliday, along with Chefs Graeme Ritchie and Adam Harvey over-saw the restaurant in the absence of Chef Voltaggio, a finalist on the sixth season of Bravo TV's hit show "Top Chef" in 2009.
Following the success of Volt, Halliday returned to his old stomping grounds at the Greenbrier, taking the role of Sous Chef at Prime 44 West. During this time, Steven was featured in the national culinary review for the use of beef necks. His venue was featured on the food network (the best thing I ever ate). Halliday, alongside Certified Master Chef Rich Rosendale, composed the layout for major renovations of the existing restaurant, over sees a 40acre farm, masters the craft of dry aging beef, and coaches the Greenbrier Apprentice Culinarians. Steven is eager to contribute to a distinctive and memorable experience for all. He is truly an ambassador for all great young chefs.