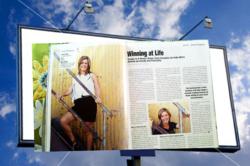 "The job of leaders is not to make money; it's to make meaning, and more leaders!"
Grand Rapids, MI (PRWEB) March 28, 2012
Kami Dempsey recognized as It Works! Global's number one income earner in the April edition of Success From Home Magazine.
It Works! Global is a direct selling company focused on changing lives physically and financially, with a naturally based product line and a family based culture. The passion behind It Works! Global stems from the founders' dedication to offer families the opportunity to live life on their own terms.
Dempsey has mastered the company's "Steps to Success" and has worked with respected motivational speakers to implement innovative strategies to layer leadership within her organization. This combined with the demand of their trailblazing product, the Ultimate Body Applicator, Dempsey has managed to sustain a monthly income over six-figures since first being recognized in July 2011 as "It Works! Global's First Six-Figure Monthly Income Earner."
What does the company mean to Dempsey? "It Works! is the unique God-given opportunity to provide a living and reach out to others while pursuing my dream of being at stay at home mom," Dempsey said. "It means we can make an impact on the lives of others. It's not just about the money and the product. It's about the people too."
A distributor previously dubbed "The Business Mommy" more recently recognized as "Motivating Mommy Millionaire." Dempsey has created a website of her own (http://www.KamiDempsey.com) and also blogs regularly with hopes of providing direction and inspiration to those in need. In addition to Dempsey's amazing work ethic, she is incredible at building teams and providing the tools for others to build their own. "The job of leaders is not to make money; it's to make meaning, and more leaders!"
Read more of Dempsey's story and dozens of other real people from all different backgrounds, seeing true financial freedom with It Works! in the April 2012 edition of SUCCESS from Home.