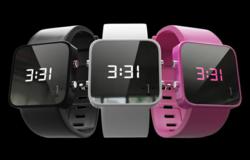 Changing the World 1:Face at a Time
Chicago, IL (PRWEB) March 27, 2012
Mirza Minds, a design and marketing firm, is launching the 1 Face watch. The product's mission statement "Changing the world 1:Face at a time" is positioned to raise money and awareness of world-wide issues while encouraging consumers to make a difference.
With the 1:Face mission statement speaking for itself, Mirza Minds hopes to inspire average consumers to change the way they think about purchasing products. The objective is to encourage consumers to harness their purchasing power to help make the world a better place. "Our mission statement speaks for the brand itself," said Fam Mirza, Creative Director. "Our goal was to design an affordable and trendy product that would benefit the world, and we accomplished that with this stylish mirror watch."
The 1 Face watch features a sleek innovative design with a silicone band and a reflective mirror screen that is illuminated by LED time display. Consumers are presented with opportunities to support the cause of their choice through color selection: white represents poverty, black for cancer, pink for breast cancer awareness, blue for climate change, clear for water, and maroon for heart disease. The mirror face is designed to remind purchasers of their commitment to making the world a better place each time they glance at the time.
About Mirza Minds: Headquartered in Chicago, IL, Mirza Minds is a brand development firm whose expertise spans across multiple disciplines. The collective's core strengths are product development, viral marketing concepts, and brand evolution strategies. This global team of creatives has proven it can create new market demands and their past work has been featured on national television networks and the Super Bowl XXXV halftime show.