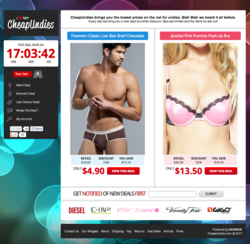 Richmond, Va (PRWEB) March 26, 2012
A new daily deal website will allow people to get outstanding discounts on items everyone needs—underwear.
CheapUndies.com, which launched last month, offers daily deals on a wide range of brand-name underwear for both men and women. In fact, users can get truly great deals when they shop on the site, often as much as 90 percent off retail prices.
"Since launching CheapUndies.com, we've seen a tremendous response from users, which has been no surprise to us," said Mike Grider, co-founder of the site. "We knew that there was a big market for this, and we have proven it with the success we have had so far. People shouldn't have to pay outrageous prices for a nice bra or a pair of boxers."
Each day, CheapUndies.com features one deal for men and one for women, both of which include significant discounts. All of the items offered on the site are stocked at the company's own warehouse, and all orders ship the same day. The site also features a "last chance" section, where users can catch additional limited deals before they are sold out.
The founders of CheapUndies.com developed the idea for the site based on their experiences running another online venture called Nuwear.com a men's underwear store. They found that the brands they worked with regularly had overstock products, including underwear, and so they created the new website to move these items while providing an opportunity for consumers to save money.
"There are currently daily deal sites in a number of different categories, but this is the first for items that all of us need and use every day," said Edward Upton, co-founder. "We're offering people an opportunity to save big on items that they need, but don't want to spend a fortune on. This is your place to get high-quality, name-brand undies at prices that you won't find anywhere else, not even at an outlet store."
Since its launch, CheapUndies.com has been featured in the Washington Post, TIME, Business Insider and a number of other high-profile news publications. To learn more about the company, visit http://www.cheapundies.com.