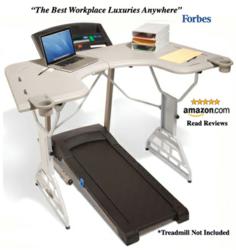 I was skeptical at first that it would become distracting. I don't get stir-crazy, sleepy, or drowsy
Boston, MA (PRWEB) March 27, 2012
The TrekDesk Treadmill Desk was featured yesterday in an article in the Boston Globe focused on the ill effects of sedentary office environments and how companies are now experimenting with solutions to the problem.
The Globe interviewed a TrekDesk Treadmill Desk user who knows quite a bit about health and fitness. Dr. Sherry Pagoto, an associate professor of medicine at the University of Massachusetts Medical School in Worcester wasn't quite sure what to think when she first read about the TrekDesk."I was skeptical at first that it would become distracting," she related to the Globe. But using the TrekDesk the past three months has convinced her otherwise, "I don't get stir-crazy, sleepy, or drowsy," she added.
The Globe also reported an interesting phenomena which occurs when employees are no longer strapped to their desk. The physicality of standing and moving spawns more physical activity and energy.
"We have maintained all along that this is not rocket science," stated Steve Bordley, CEO of TrekDesk Treadmill Desks. "A body in motion tends to stay in motion, and that leads to increased levels of productivity, health and well being. Our mission over the last three years has been to evangelize the benefits of movement and decry the risks of sedentary office environments. It is finally catching on but we have a long way to go before TrekDesks are no longer looked upon as a novelty."
Read the entire Boston Globe article here: http://bo.st/GSpDGY
About TrekDesk Treadmill Desks: Designed to fit any existing treadmill, TrekDesk treadmill desk is an affordable, full sized, height adjustable workstation that allows individuals the opportunity to gain the necessary amount of exercise daily to maintain health, prevent disease, strengthen muscles, boost mood and productivity, without requiring additional time during the day or extra motivation. Workout at work with TrekDesk. No sweat!
TrekDesk is currently available for sale online at http://www.trekdesk.com.
Join the TrekDesk "Movement Revolution" to learn more, win a free TrekDesk or ask any health related questions anytime at http://www.facebook.com/trekdesk, or follow TrekDesk on twitter -http://www.twitter.com/trekdesk.