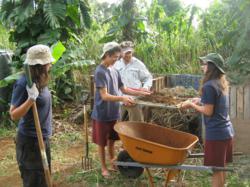 "...horticultural therapy can be an effective tool in the treatment of individuals with mental health conditions."
Hilo, HI (PRWEB) March 28, 2012
Pacific Quest's Land Supervisor, Travis Slagle, was interviewed for National Public Radio's food blog, The Salt. The story "Can Gardening Help Troubled Minds Heal" focused on the growing evidence that horticultural therapy can be an effective tool in the treatment of individuals with mental health conditions. Commonly known as "horticulture therapy," this field of experiential treatment has been utilized by psychologists in the U.S. from as early as the late 1700's. As an alternative to traditional wilderness therapy programs, which often takes troubled youth on extended hikes in the wilderness, Pacific Quest offers adolescents and young adults the opportunity to actively take control of their emotions and response to stress through the challenges and rewards of farming in Hawaii. The article by NPR affirms the many ways that organic gardens have not only become a force of change in the food industry but also in the fields of mental health, social justice, and physical rehabilitation.
While scientists continue to conduct research on the efficacy of horticultural therapy, many mental health professionals concur with recent studies suggesting that the simple act of gardening decreases one of the most major stress hormones: cortisol. When asked whether gardening really works in the treatment of depression and anxiety, Slagle cited a recent study published by the Journal of Health Psychology, where researchers measured cortisol levels of subjects having been exposed to stress and then left to choose either to garden or to read. The participants in the study that chose to garden for 30 minutes exhibited a significantly lower level of cortisol than those who chose to read. These findings provide some of the earliest statistical evidence that supports gardening as a valid treatment for stress reduction and a natural way to lower cortisol levels in the body.
At Pacific Quest, adolescents and young adults in need of help learn to recognize the parallel between the growth in the garden and the growth happening in their own lives. Slagle says, "It provides ways to engage in meaningful conversation and life lessons. The kids, who meet with counselors and therapists regularly throughout the process, are learning to prepare for the moment but also to plan for the future. Doing both at the same time requires maturity, and wisdom and that's something the garden brings out." Rather than hiking in the desert or sleeping on the snow, students at Pacific Quest experience an alternative to traditional wilderness therapy programs by caring for a garden as a way to settle anxious nerves, and practice life skills that lead to a greater sense of self-worth.
About Pacific Quest
Pacific Quest is an outdoor therapeutic program for struggling teens and young adults, located on the Big Island of Hawaii. Their wilderness programs offer a clinical, yet holistic approach to treatment, going beyond traditional wilderness therapy and teaching sustainable life skills. Pacific Quest's proprietary therapeutic model is a groundbreaking approach that uses organic gardening to create concrete metaphors for its students as they cultivate their own health and happiness. Pacific Quest provides an environment that allows for a true discovery process for its students, a place that is safe, structured, experiential and natural. Owned and operated by a veteran team of professionals with hundreds of years of combined wilderness program experience, Pacific Quest offers a unique approach to treatment that is individualized for each student.