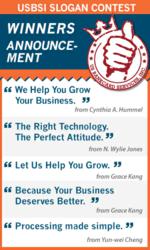 City of Industry, CA (PRWEB) March 30, 2012
US Bankcard Services, Inc. (USBSI) is proud to announce the winners of its slogan contest on Facebook, which took place from February 1 to February 29, 2012. Facebook users took advantage of the leap year to submit their best ideas for USBSI's new slogan based on the information found on the "Who are we" and "What do we do" sections of USBSI's Facebook page, as well as their positive interactions with USBSI.
The process of determining the winners was very difficult for USBSI's judges. Of more than four hundred and fifty wonderful slogans submitted by its fans, only five could receive prizes. Please join USBSI in congratulating its slogan contest winners, who won $100 for each winning slogan in a very competitive contest.
The winners and winning slogans are: Cynthia A. Hummel's "We Help You Grow Your Business," N. Wylie Jones' "The Right Technology. The Perfect Attitude," Grace Kang's two slogans," Let Us Help You Grow," and "Because Your Business Deserves Better," and last but not least, Yun-Wei Cheng's "Processing Made Simple." These winners hail from both the eastern and western United States and may see their submissions featured in future USBSI campaigns.
While USBSI received hundreds of creative and original suggestions, it chose the five slogans that best personified the spirit of USBSI: award winning customer service, innovative solutions for merchants, and engagement with the community. USBSI would most of all like to thank its fantastic Facebook fans for their participation and making the contest both competitive and memorable. USBSI encourages its fans to continue to check Facebook and its website for more news, announcements, and opportunities to participate in future contests.
About US Bankcard Services, Inc.
US Bankcard Services, Inc. is a top rated MSP that offers competitive rates, incredible customer service support, and cutting edge technology in credit card processing service. USBSI offers a wide array of value-added services, including QuickDining.com (QD) restaurant e-commerce, gift card services, check guarantee, PCI –DSS compliance consultancy, 24-7 multilingual customer service and technical support. US Bankcard Services, Inc. is a registered MSP/ ISO of Elavon, Inc. Georgia
For more information about merchant bankcard services please visit us at usbsi.com or call us at: 1-888-525-8558.
###