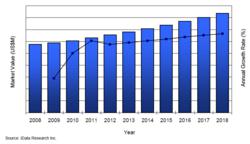 By 2018, the U.S. telehealth market is expected to more than double in value, with companies such as Honeywell, Bosch Healthcare and Cardiocom battling for market share
Vancouver, BC (PRWEB) March 27, 2012
According to a new report by iData Research (http://www.idataresearch.net), the leading global authority in medical device market research, the U.S. patient monitoring market was valued at over $3.1 billion in 2011 and will grow to almost $4.2 billion by 2018 due to rapid adoption of wireless ambulatory telemetry monitors, and low-acuity vital signs monitors as well as telehealth for both remote monitoring of chronic conditions and for patients with CIEDs. Traditional monitoring products including multi-parameter vital signs monitoring, telemetry, fetal and neonatal monitoring will continue to grow to replace outdated systems.
"The growing awareness of the benefits of remote monitoring, in addition to large purchases by the Department of Veterans Affairs has helped drive growth in the telehealth for the chronic conditions segment," says Dr. Kamran Zamanian, CEO of iData. "By 2018, the U.S. telehealth market is expected to more than double in value, with companies such as Honeywell, Bosch Healthcare and Cardiocom battling for market share."
The report states that the wireless ambulatory telemetry monitor market rapidly expanded in 2011. Physicians and clinicians are becoming more aware of the benefits provided by patient mobility after surgery, in particular, faster recovery and a quicker hospital discharge. Patient-worn monitor unit sales are expected to increase dramatically over the forecast period as telemetry monitoring expands to general ward areas.
In addition, emerging smartphone compatible monitoring products are entering the market, which are expected to drive sales, particularly for the pulse oximetry and blood pressure monitoring segments.
"Several pulse oximetry and blood pressure monitoring products which connect to smartphone devices were announced in the U.S. market," says Dr. Zamanian. "Factors which will drive the uptake of smartphone compatible monitors include convenience of monitoring, ease of use, familiar platform for smartphone users, new and exciting method for measuring blood pressure, and the ability to share and analyze results."
For more information, register free on iData's website at:
http://www.idataresearch.net/idata/registration.php
iData's 3-report series on the: "Markets for Patient Monitoring Equipment & Devices 2012" includes the U.S., Europe (15 countries) and Asia-Pacific (3 countries) and covers multi-parameter vital sign monitors; wireless ambulatory telemetry monitoring; telehealth; intra-cranial pressure monitors and consumables; electromyogram devices and consumables; electroencephalogram monitors; cerebral oximetry monitors and consumables; fetal and neonatal monitors; pulse oximetry monitors, consumables and circuit boards; cardiac output devices and consumables; and blood pressure monitors.
About iData Research
iData Research (http://www.idataresearch.net/idata/discoveridata.php) is an international market research and consulting group focused on providing market intelligence for medical device, dental and pharmaceutical companies. iData covers research in: patient monitoring, endoscopy, women's health, cardiovascular, orthopedics and more.