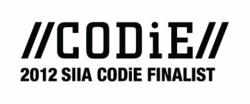 San Francisco, CA (PRWEB) March 28, 2012
Tracker Corp, http://trackercorp.com, developer of the most innovative software products for immigration case management and Form I-9 compliance and E-Verify, announced that their Tracker I-9 compliance software has been named a finalist in the Software & Information Industry Association's 27th annual CODiE Awards for "Best Human Capital Management Solution" of 2012.
CODiE Award winners will be announced on May 7, 2012 during a special dinner held in conjunction with the Ed Tech Industry Summit for all Education Technology categories.
Established in 1986 by the Software Publishers Association (SPA), now the Software & Information Industry Association (SIIA), the SIIA CODiE Awards recognize excellence in the business software, digital content, and education technology industries. All nominated products and services receive a thorough review from seasoned industry experts who can identify strengths and give significant insights for improvements. In 27 years, SIIA has recognized more than 1,000 companies for achieving greatness in industries that expect innovative thinking and demand market validation.
"We're proud that SIIA has selected Tracker as a Finalist for the CODiE Award for Best Human Capital Management Solution," said Fred Colman, President of Tracker Corp. "This recognition serves as further independent confirmation of the value Tracker I-9's innovative tools bring in simplifying the lives of Human Resources professionals."
Tracker Corp provides software for immigration management, I-9 compliance, and E-Verify. Used by 70% of the top immigration law firms who buy case management software (according to IndUS Business Journal and American Lawyer Media), as well as many Fortune 1000 companies, hospitals and universities, Tracker Corp products include ImmigrationTracker™ software and Tracker I-9 compliance software. Founded in 1998, Tracker Corp is privately held and based in San Francisco, CA. For more information, visit http://www.trackercorp.com.
###