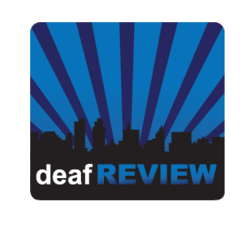 We are aiming for the day that all businesses in our city are ADA compliant and know what it means to be deaf-friendly
SEATTLE, WA (PRWEB) March 27, 2012
deafREVIEW http://www.deafreview.com a community-led search and review website for the deaf, deaf-blind and hard of hearing communities, today announced the launch of deafREVIEW in its flagship city of Seattle, Washington. Now, those who are deaf, deaf-blind or hard-of-hearing and their allies, such as family members and friends - can read and write reviews about the deaf-friendliness of businesses they frequent.
From restaurants to doctors' offices, reviewers can give their two cents (or five stars) as they explore the question: "Is this business deaf-friendly? Why or why not?" Business owners will be able to access many free features, such as adding their business as well as accessing educational articles, videos and tips on what it means to be deaf-friendly.
"We are aiming for the day that all businesses in our city are ADA compliant and know what it means to be deaf-friendly" said Melissa "echo" Greenlee, founder and CEO of deafREVIEW. "Seattle, known for its bustling Deaf community and ever changing marketplace, is a great city for us to launch in."
According to the Center for Disease Control and Prevention, there are over 35 million Americans who are deaf or hard-of-hearing. In Washington State alone, there are over 254 thousand deaf or hard-of-hearing individuals, with 74% of them living in urban areas such as Seattle.
"We are living, breathing Deaf consumers with money in our pockets and choices to make every day. Are we going to support a deaf-friendly business or a deaf-challenged business?"
Future deafREVIEW launches are scheduled in 2012 for cities such as San Francisco, CA, Los Angeles, CA, Austin, TX, New York City, NY, Rochester, NY, Washington DC, and many more.
Cool deafREVIEW Features:

Create a free profile
Register your business
Search for deaf-friendly businesses
Rate businesses 1-5 stars
Write consumer reviews
Learn what it means to be "deaf-friendly"
For more information, visit http://www.deafreview.com or send an email to press(at)deafreview(dot)com
###