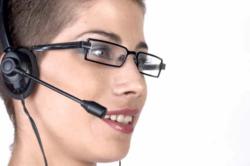 (PRWEB) March 27, 2012
VANCOUVER, B.C: ABC Language Solutions, a leading provider of language translation services, today announced the launch of a new interpretation-by-phone service.
Corporations and businesses trading globally are seeking to reduce the high costs of on-site interpretation. Many companies must deal with employees and customers located in various parts of the world. It is more and more common for companies to request interpretation-by-phone for employee training, labor negotiations, trials, legal proceedings, customer issues, partner discussions and medical consultations. From small business to government agencies interpretation-by-phone has become a cost-effective alternative to on-site translation.
Andrey Bondarenko, CEO had the following to say about the new interpretation-by-phone service:
"Over the past few years, we have experienced a steady rise in demand for professional interpretation services. Logistics is always a challenge and quality linguists are always in short supply, especially during major events such as the Vancouver 2010 Winter Olympics, when schedules and locations can often be changed at a moment's notice. We are excited to introduce this new service of interpretation over the phone as it adds significant value to our clients allowing them to communicate with their partners, clients and suppliers almost in real time as needs arise, thus drastically reducing wasted time and associated expenses which can run into thousands of dollars. As an example, we had to fly an interpreter from Vancouver to Calgary on 1 hour notice just because no local interpreters were available. On another recent occasion, a client flying to China wanted to book an interpreter to actually fly with him there for some important negotiations, business class, all expenses covered – would seem a dream job, right? But just imagine the challenge of having to find a qualified legal interpreter available to cancel all other assignments and leave the next day – and frustration for everybody involved when it turned out the interpreter did not have a current Chinese visa… All these and many additional challenges and expenses are eliminated with the introduction of the interpretation-by-phone service."
Translation is more than just a bunch of words. Regional differences, idiomatic expressions, dialects and cultural norms all affect the accuracy and the way a translation is understood. ABC Language Solutions understands the importance of localization to the accuracy of a translation and therefore uses only native, professional translators with regional and cultural knowledge as well as the highest technical language skills to ensure clients receive the most culturally sensitive, accurate translations.
Many businesses that require over the phone interpretation services represent specialized fields. The interpretation-by-phone service utilizes interpreters with specialized training and skill in the areas of technical, legal, medical and financial translation.
Beginning today ABC Language Solutions offers interpretation-by-phone services in over 120 languages with a connection time of less than 5 minutes 7 days a week, 24 hours a day, 365 days a year to help companies reduce the costs of translation and interpretation that are a part of international commerce.
ABOUT ABC LANGUAGE SOLUTIONS
Company founders, Andrey and Svitlana Bondarenko, have been actively engaged in translations since 1991. In 1996, they moved to Vancouver where they started serving local and North American clients. Over the years, the business expanded and underwent several transformations and organizational changes before ABC Language Solutions was incorporated in 2004.
Today, our clients represent diverse industries, from aerospace and medical instrumentation, to oil and gas, law and telecommunications. Our translations are used by government agencies, the United Nations, the Council of Europe, the World Bank, global corporations and other high-profile clientele.