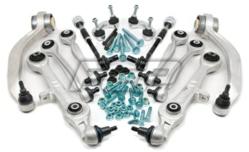 We are always looking for ways to serve our customers better. With this expanded product line, FCP Euro can now supply the widest range of suspension parts
Old Saybrook, CT (PRWEB) March 27, 2012
FCP Euro today announced it is expanding its product selection to include a range of suspension kits designed for European vehicles. These new additions will include Mercedes, Volkswagen, BMW, Audi and Volvo suspension kit packages designed to provide outstanding durability and service for these exceptional European cars. FCP Euro will also sell certain replacement components individually to allow buyers to put together their own custom Audi or BMW suspension kit. This added flexibility allows the company to provide even better service for their customers.
The president and founder of FCP Euro, Nick Bauer, said, "We are always looking for ways to serve our customers better. With this expanded product line, FCP Euro can now supply the widest range of suspension parts and BMW, Volvo and Audi suspension ki t packages to provide even more choices for our valued customers." The expanded selection includes an extensive array of individual parts and packages that include complete Mercedes and Volkswagen suspension kit systems, control arm assemblies, coil springs, shock absorbers and many other components in a wide range of price ranges to suit most budgets.
FCP Euro puts together each of their suspension kit systems specifically to meet exacting standards of quality from its Volvo Front Strut Kit to the BMW Control Arm Eight-Piece Kit. The company labels each suspension kit to provide full information to their customers and ensure that the product purchased will be suitable for the end user's needs. These replacement suspension kits offer a number of benefits for overall ride quality and steering control. Control arm packages are especially important for steering, while well-maintained bushings and shocks are vital to ensure even tire wear. Shock absorbers should be replaced whenever they are worn or damaged; this simple step can provide improved ride quality and extend the life of the vehicle. These new additions to the FCP Euro lineup will help the company provide an even more comprehensive selection of top quality European auto parts at affordable prices.
About FCP Euro and FCP Import
Both FCP Euro and FCP Import were established in 1986 and are family-owned and operated businesses dedicated to providing the highest quality OEM auto parts at the lowest prices in the automotive marketplace. FCP Euro delivers BMW, Volvo, Volkswagen, Audi, Mercedes and Saab auto parts to its customers throughout the country and can also provide a full range of Asian import auto parts through its sister website FCP Import. FCP Euro and FCP Import order their parts direct from the manufacturer and ship from their warehouse in Old Saybrook, Connecticut. This allows FCP to pass the savings along to their customers and provide them with the best possible deals on the full range of European and import auto parts.