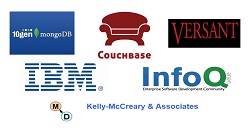 This special webinar panel event will bring together some of the industry's top experts to address your most-pressing questions regarding Big Data, NoSQL, and Security.
Los Angeles, CA (PRWEB) March 28, 2012
Big Data with a NoSQL foundation layer is the hottest thing in data and business today. The flexibility, speed, and scalability of these new solutions turn heads and grabs headlines. However, to get beyond the pilot project phase most large organizations have security questions that simply must be answered.
This special webinar panel event will bring together some of the industry's top experts to address your most-pressing questions regarding Big Data, NoSQL, and Security. It is a can't-miss hour designed for attendees to ask the top names in the industry questions, moderated by the Co-Founder of the NoSQL Now! Conference, Dan McCreary, from Kelly-McCreary & Associates.
Webinar Date: April 3, 2012
Webinar Time: 2 PM Eastern / 11 AM Pacific
More Information and to Register: http://www.dataversity.net/archives/9079
About the Panel
Anjul Bhambhri, Vice President of Big Data Products, IBM
Anjul Bhambhri has 23 years of experience in the database industry with engineering and management positions at IBM, Informix and Sybase. She is currently IBM's Vice President of Big Data Products, overseeing product strategy and business partnerships. Previously at IBM, Anjul focused on application and data lifecycle management tools and spearheaded the development of XML capabilities in DB2 database server. In 2009, she received the YWCA of Silicon Valley's "Tribute to Women in Technology" Award.
Dwight Merriman, Co-Founder, 10gen/MongoDB
Dwight is CEO and co-founder of 10gen, and one of the original authors of MongoDB. In 1995, Dwight co-founded DoubleClick and served as its CTO for ten years. Dwight was the architect of the DoubleClick ad serving infrastructure, DART, which serves tens of billions of ads per day. Dwight is co-founder, Chairman, and the original architect of Panther Express (now part of CDNetworks), a content distribution network (CDN) technology which serves hundreds of thousands of objects per second. Dwight is also a co-founder and investor in BusinessInsider.com and Gilt Groupe.
James Phillips, Co-Founder, Couchbase
A twenty-five year veteran of the software industry, James Phillips started his career writing software for the Apple II and TRS-80 microcomputer platforms. In 1984, at age 17, he co-founded his first software company, Fifth Generation Systems, which was acquired by Symantec in 1993 forming the foundation of Symantec's PC backup software business. Most recently, James was co-founder and CEO of Akimbi Systems, a venture-backed software company acquired by VMware in 2006. Book-ended by these entrepreneurial successes, James has held executive leadership roles in software engineering, product management, marketing and corporate development at large public companies including Intel, Synopsys and Intuit and with venture-backed software startups including Central Point Software (acquired by Symantec), Ensim and Actional Corporation (acquired by Progress Software). Currently James is co-founder and Senior Vice President of Products at Couchbase.
Robert Greene, Vice President of Technology, Versant
Robert Greene is responsible for providing strategic technical expertise for the Versant product portfolio as it relates to NoSQL solutions and Big Data management including product architecture, roadmap and overall software eco system integration. He is also involved in application implementation within Versant's key customer accounts, ensuring successful adoption of Versant's emerging Enterprise NoSQL database technology.
Srini Penchikala, Editor, InfoQ
Srini currently works as a Security Architecture Program Manager at a major financial services organization in Austin area. He has over 17 years of experience in security and risk program management. Srini's main areas of interest are Agile Enterprise and Security Architecture, Agile Risk Management. He has presented at conferences like JavaOne, SEI Architecture Technology Conference (SATURN), IT Architect Conference (ITARC), No Fluff Just Stuff, and Project World Conference. He has also published several articles on Security Architecture, Agile Security Methodologies on websites like InfoQ.com, ServerSide.com, ONJava, DevX Java, java.net and JavaWorld.
About the Moderator
Dan McCreary, Consultant/NoSQL Evangelist, Kelly-McCreary & Associates
Dan McCreary is an enterprise data architect and strategist with over 25 years of experience helping organizations leverage advanced technologies. He is interested in NoSQL and advanced web architectures based on W3C standards. He has worked for organizations such as Bell Labs and Steve Job's NeXT Computer as well as founding his own consulting firm of over 75 people. He has a background in object-oriented programming, semantics and declarative and functional programming. He has published articles on various technology topics including XQuery, XForms, XRX, Semantic Web, metadata registries, enterprise integration strategies. He is author of several articles and Wikibooks on XRX-related technologies. He is also an invited expert of the W3C forms working group.
About DATAVERSITY™:
Dataversity provides a centralized location for training, online webinars, certification, news and more for information technology (IT) professionals, executives and business managers worldwide. Members enjoy access to a deeper archive, leaders within the industry, knowledge base and discounts off many educational resources including webinars and data management conferences. For more information please visit: http://www.dataversity.net/, or email: info(at)ataversity(dot)net.