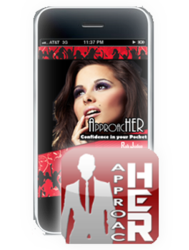 "AA is probably the biggest hurdle most guys face when trying to meet new women," explains Judge.
New York, NY (PRWEB) March 28, 2012
Dating blogger Rob Judge released his "ApproacHER app" on the iOS and Android platform over a year ago, and the app has gone on to sell thousands of copies and garner a near-perfect review score on both platforms. The app is targeted at aspiring pickup artists (PUA) who succumb from "approach anxiety."
Approach anxiety (referred to as "AA" in the pickup artist lexicon) was a term coined by Neil Strauss's 2005 New York Times bestseller The Game: Penetrating The Secret Society Of Pickup Artists. In the book, Strauss defines "AA" as: "The fear that arises when doing a cold approach on a woman or group of women (or group of strangers, including men)."
"AA is probably the biggest hurdle most guys face when trying to meet new women," explains Judge. The men's dating advice niche has offered a plethora of solutions to the AA problem—from hypnosis courses to beta-blocker pills.
Judge says he did not find an acceptable solution to the problem, which inspired him to create the ApproacHER app. "I know the paralyzing feeling of not being able to approach a woman who catches your eye," explains Judge. "It's incredibly frustrating. It makes you feel powerless."
Judge saw a unique opportunity to put an information product on a smartphone. "Men don't leave the house without their phone," says Judge. "It's always just a pocket-grab away. This was the perfect medium for an app that tackles approach anxiety because the number one thing most guys say when AA hits is that they can't seem to remember any of the material they'd studied to help them overcome AA, which makes it completely useless."
The app's navigation menu caters to "quick tips." It has a checklist and cheat sheet section, allowing men to quickly refresh their memory of the main ideas from course.
The coursework comes from Judge's own philosophy and anecdotes of approaching women. Much the essays and advice in the app's coursework encourage men to venture outside their comfort zone, take risks, and detach themselves from the outcome.
The app, which bills itself as "Confidence In Your Pocket," sells on both the Apple and Android marketplace for $4.99.
In addition to the ApproacHER app, Judge has also created The Man App and Get A Girl app, which are also available for iOS and Android phones.
Rob Judge has spent the past 5 years teaching men to meet and attract women, both through products and live coaching.
Date Hotter Girls has released several books on meeting and attracting women. Magnetic Messaging is the latest release from Judge.