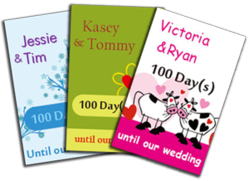 With the wedding countdown widget, it will be easier to make the wedding planning organized.
(PRWEB) March 28, 2012
Spring is in the air, and with it comes wedding season. Soon to be brides are working on monstrous to do lists, choosing dresses, booking caterers, scoping out venues, and partnering with wedding planners. Nervous grooms are searching for just the right tuxedo while planning the honeymoon of a lifetime. With so much to do, it can be difficult to stay organized. But thanks to the website http://countdown.983wedding.com/, it's now easy for brides to keep track of time with customized wedding widgets.
"We saw a real need for this product," said Jerry Leung, Chief Designer of 983 Wedding Invitations, that runs the wedding countdown widget. "Whether you need a simple widget to keep yourself organized or are looking for a beautiful, custom counter to include on your wedding website, this service can get you started. We offer both portrait and landscape widgets that can be integrated into your blog, wedding website, or forum signatures."
Technology is now a crucial part of the wedding planning process. Every bride and groom are expected to have a wedding website. The typical wedding website, whether integrated on a site like the Knot or hosted on a custom "TeddyandShirley.com" domain, features information about the venue, a schedule, and links to the couple's wedding registry. Many wedding websites today also feature stories about the couple and how they met, information about the couple's families and wedding party, and details about lodging and activities around the wedding site for out of town guests. A wedding widget featured on the home page can help guests of the wedding to stay organized around timing.
Many brides are also maintaining blogs about their experience planning their weddings. These serve as both records of the big event, ways to share details with partners and friends, and a tool in the process of staying on schedule and on budget. A wedding widget included on a private wedding blog is a great way to have a central place to remind the couple of how many days are left to go.
The Wedding Countdown Widget can also help count down to a specific aspect of the wedding. "We used a wedding widget to stay on target with diet and exercise," says Katelyn Donavan, a recent bride from Warner-Robbins, Georgia. "When you need to take off a size or two, it's easy to lose focus and overeat especially from wedding stress. But then we'd see that counter ticking down on our blog and get to the gym or eat right for dinner. It was a terrific motivator."
It is true that most couples are not tech whizzes. In fact, installing the wedding widget is easy. No technology or programming expertise is needed when installing the widget. After selecting the option and following the buttons on the site, the widget will be installed within a matter of seconds, making it an easy and hassle free process.
Another important use of the wedding widget is in signature on forum posts. Many couples are now relying on forums as a way to get recommendations for venues and vendors, to share ideas and get feedback on concepts from dresses to flower arrangements, and simply to connect with new friends who are facing the same decisions, excitement, and stress of planning a wedding. Yet with many voices asking for opinions and making posts on forums, it can sometimes be hard to get responses. But the wedding widget in the signature will help to get more responses. As it is closer to the big day, people will be more willing to help and respond to various questions related to wedding planning.
Two types of wedding widgets are available. Widgets are best described using the same terminology that Microsoft uses to describe page orientation in its MS Word program. Portrait widgets are great choices for use on wedding websites and blogs, while landscape widgets will integrate easily with forum signatures.
One frequent concern about wedding widgets is whether or not the design can be customized. Brides and grooms often choose careful color palettes and themes that carry through from place settings to flower selections and attendants' dresses. The widgets come in a wide variety of colors and designs, from vivid primary colors to more subtle pastels. Some examples of the designs include American wedding symbols like a wedding cake or a heart, or something more specific like Chinese characters or starfish to signify a destination wedding. The widget will fit any types of wedding themes. Best of all, the widgets are free.
So, visit http://countdown.983wedding.com/ for more information and create the wedding countdown widget.