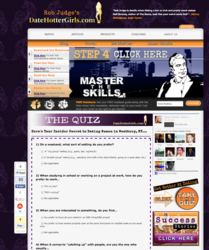 "We see it all," says Rob Judge, the site's founder, "Guys ask, how to tell if a girl likes you, how to kiss a girl, and even how to text a girl."
New York, NY (PRWEB) March 28, 2012
Recently Date Hotter Girls, a leading men's dating company, unveiled their new company website. The site, which has been a hub for men's dating advice, tackles various questions men have when interacting with the opposite sex.
"We see it all," says Rob Judge, the site's founder, "Guys ask, how to tell if a girl likes you, how to kiss a girl, and even how to text a girl."
Judge has been a men's dating blogger for the past 3 years and made a name for himself by coaching students on the proper way to approach women in New York nightclubs.
In 2009, Judge along with his former business partner Zack Bauer, launched the company Date Hotter Girls. "We never thought it'd get so big," laughs Judge.
Judge explains the company's rise, from when all they offered was a self-published, PDF handbook for approaching women. The company has grown into offering iPhone and Android apps, interactive online courses, as well as several coaching programs.
"For me, it's always been about helping like-minded guys enjoy the feeling of confidence that comes with feeling attractive around women," says Judge, "That's why I'm so excited to release this new website build."
Among the new features, the revamped website has a "diagnostic" quiz that helps men assess where they're falling short in their interactions with women. Judge explains that the quiz is based on the Myers-Briggs personality-typing test, but customized for dating.
"Guys are astonished at how accurate the results are," says Judge.
The site, which boasts over 1,000 unique visitors a day, also has over a dozen videos, articles, and other resources that are available free. "We wanted to make a site that any man, regardless if he's ready to spend money on products or not, will find useful," says Judge.
Rob Judge has spent the past 5 years teaching men to meet and attract women, both through products and live coaching.
Date Hotter Girls has released several books on meeting and attracting women. Magnetic Messaging is the latest release from Judge.