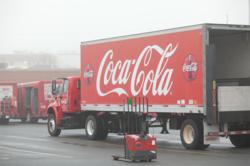 We chose FleetLocate because it was the only system we found that provided continuous real-time and accurate views of our entire fleet, which consists of over 800 trailers operating at hundreds of landmarks across the Southeastern U.S.
Knoxville, TN (PRWEB) March 28, 2012
Coca-Cola Bottling Consolidated (CCBCC), the nation's largest independent Coca-Cola bottler, announces significant cost savings and returns resulting from its partnership with FleetLocate's Trailer and Asset Intelligence platform from Spireon, Inc.
FleetLocate is a powerful, easily configurable and scalable GPS Tracking and Monitoring System that allows organizations with large and widespread fleets to continuously track and control their trailers in real-time. CCBCC selected FleetLocate to address its logistical and operational challenges after reviewing a number of fleet monitoring systems available on the market.
"We chose FleetLocate because it was the only system we found that provided continuous real-time and accurate views of our entire fleet, which consists of over 800 trailers operating at hundreds of landmarks across the Southeastern U.S.," explains David Hopkins, Senior Vice President of CCBCC Operations. "This unprecedented visibility into our fleet has allowed us to save significant costs, improve customer service and satisfaction, and make faster, more profitable business decisions."
"FleetLocate provided the ideal platform for CCBCC's challenges and needs," says FleetLocate Vice President and General Manager Steve Blair. "FleetLocate offers continuous trailer monitoring with exception based reporting that turns information into business intelligence. Working closely with CCBCC's logistics team, we were able to quickly configure a solution that provided precisely the kind of information they needed to know about each trailer and their location."
Using FleetLocate's intuitive dashboard and unique user interface, CCBCC can now see the exact location of each trailer, as well as expected arrival, departure and idle times. "This granular level of information allows us to ensure we have the right trailer at the right location at the right time," says Hopkins. "Equipped with this intelligence, we've been able to eliminate bottlenecks and delays that can lead to costly shut downs of manufacturing lines and pallet-loading equipment. This makes our manufacturers happy as well."
Another benefit to real-time fleet visibility is the cost-savings related to trailer leasing and rentals. FleetLocate enables CCBCC to increase utilization of its existing fleet, eliminating the need to rent or lease additional trailers to handle loads. In addition, CCBCC now uses FleetLocate to quickly identify and locate trailers that require preventative maintenance, saving maintenance-related costs and hundreds of man hours.
FleetLocate's flexible reporting feature has proven to be another valuable tool for the company. FleetLocate enables CCBCC to generate on-the-fly as well as automated reports customized for specific individuals within the company. "We can quickly generate reports that contain actionable intelligence most pertinent to the person looking at it," explains Hopkins. "This saves countless hours wading through pages of irrelevant data and allows the right person to make the right decision, faster."
Since implementing FleetLocate, CCBCC estimates the company has generated the following cost-savings as a result of improved fleet tracking and monitoring:

Reduction in thousands of dollars in yearly costs associated with buying, renting and leasing trailers.
The system paid for itself in less than 10 months
Savings of approximately 100 man-hours per week in manual yard checks.
Anticipated savings of $400 per trailer annually in preventative maintenance-related costs.
Significant savings in overtime, per man-hour and customer service resulting from multiple line shut-downs.
"We are very happy with our decision to partner with FleetLocate," adds Hopkins. "FleetLocate provided a competitive price point and quickly demonstrated itself to be a smart investment for CCBCC. We expect to see a rapid return on that investment as well."
About Coca-Cola Bottling Consolidated
Coca-Cola Bottling Co. Consolidated (CCBCC) is the nation's largest independent Coca-Cola bottler. CCBCC makes, sells and distributes Coca-Cola products along with other unique beverages. The company operates in 11 states, primarily in the Southeast, with corporate offices located in Charlotte, NC. CCBCC stock is traded on the NASDAQ exchange under the symbol COKE. To learn more, visit http://www.cokeconsolidated.com
About FleetLocate by Spireon, Inc.
FleetLocate is a powerful, flexible and scalable Trailer and Asset Intelligence solution that provides continuous real-time visibility of large, geographically disperse fleets. Featuring exception-base reporting, FleetLocate is an effective tool for improving operational efficiency, increasing the number of loads per trailer, reducing the need and associated costs for rental trailers and driving more revenue. The interface is simple to use, easy to navigate, and provides a comprehensive suite of reports designed to help businesses better manage their fleet operations and address many of the operational dilemmas they face daily. To learn more, visit http://www.fleetlocate.com.
About Spireon
Spireon, Inc., is at the summit of business intelligence and committed to going higher. Headquartered in Knoxville, TN, the company emerged in 2011 as the industry leading Mobile Resource Management (MRM) company as a result of the merger of Spireon, Inc., Inc. with Enfotrace and PFS, LLC , the top three providers in the MRM space. Spireon connects companies to their mobile assets and workforce through game changing information platforms, giving them the power to manage actionable business intelligence. Inspiring companies to reach new heights with powerful Software-as-a-Service (SaaS) based tools, Spireon provides a sturdy foundation on which to optimize performance.
With leading market positions in the Subprime Automotive Finance industry, Local & Enterprise Fleet Management and Trailer & Logistics markets, Spireon, Inc. specializes in developing strong business relationships with leading companies worldwide, enabling it to offer affordable world-class risk mitigation, mobile asset management and location based services to its customers. Spireon, Inc.'s patented array of GPS products and information platforms provide business intelligence solutions through industry brands for automotive dealers, lenders, service and delivery fleets and transportation and logistics companies. Spireon currently has over 1.2 million active devices in the marketplace and forecasts to deliver 800,000 units in 2012. With offices in the North America, Spireon has a proven track record in innovation, customer-focused service, financial stability, powerful vertical distribution networks, and a strong customer base.
For additional information, please visit Spireon, Inc.'s website http://www.spireon.com.
Contact:
Corinna Tutor
949-422-7103
ctutor(at)spireon(dot)com