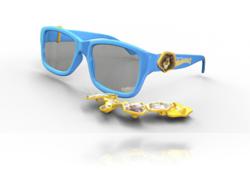 Look3D Eyewear release their latest major 3D glasses title, Madagascar 3!
Melbourne, Australia (PRWEB) March 29, 2012
From the group that brought you both the Harry Potter 3D spectacles and the most recent Star Wars Episode 1 - PodRacer 3D Glasses comes their brand new major 3D Glasses release, Madagascar 3!
Madagascar 3 in 3D is definitely one of this year's much anticipated 3D blockbusters. The DreamWorks / Paramount release hits cinemas in June 2012 and the Look3D team have done it again with this one!
These themed 3D Glasses are evolving with every release and this time the guys at Look3D Eyewear are adding sunglasses to their list of products and why stop there... You can choose between a blue boys frame or a pink girls frame and also, every pair comes with a set of four character "toggles" to mix and match.
These unreal 3D glasses will be available in selected cinemas worldwide and Look3D are also currently in negotiations to have these glasses available in retail stores as they can be used on all of your passive 3D electronics including LG, Vizio and many more!