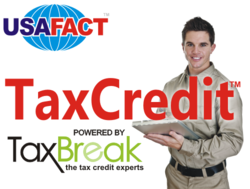 "We are very pleased to bring USAFact customers a way to potentially realize financial benefits of up to $9,600 per candidate, with no additional fees or effort on their part."
Denver, CO (PRWEB) March 27, 2012
USAFact, a leading online pre-employment screening service, today announced TaxCredit™ a new enhancement that will be included in every employee screening package. The new service is designed to seamlessly run tax credit pre-qualification screening on potential candidates automatically during USAFact's background screening process.
"TaxCredit™ represents huge value to our end users," said Matthew Davidson, CEO & President of USAFact. "Working with our partner TaxBreak, we designed a way to take a complex process and seamlessly incorporate it directly into our background screening process." Matthew continued, "We are very pleased to bring USAFact customers a way to potentially realize financial benefits of up to $9,600 per candidate, with no additional fees or effort on their part."
"Partnering with USAFact on their new TaxCredit product been a great experience for TaxBreak," said Shannon Scott, CEO of TaxBreak. "Together, we provide a simple to implement solution for hiring managers, and even create an in-road to the hiring process that will cost-justify itself through the potential tax credits."
The TaxCredit™ service line can also be coupled with other USAFact offerings like motor-vehicle records, employment history, and educational verification. To find out more about USAFact's TaxCredit™ service and how they can help your business get the most from new hires, please go to http://www.usafact.com/TaxCredit or contact a USAFact representative directly by calling 1(800) 547-0263.
About TaxBreak
TaxBreak was founded in 1998 and is made up of an acclaimed team of tax attorneys, technology and financial executives committed to delivering the best tax credit consulting and processing to companies of all sizes. The TaxBreak organization boasts proprietary software that enables them to accurately determine the tax credit eligibility of company employees, applicants and new hires, including those who qualify for work opportunity tax credits, disaster relief credits and geographic based credits, among others. TaxBreak's uniquely positioned program simplifies the process and maximizes the credit potential, providing opportunity for companies nationwide to generate measurable capital recovery. For more information, visit TaxBreak online at http://www.taxbreakllc.com.
About USAFact, Inc.
For over 35 years, USAFact has been recognized as the hiring solution provider with the most accurate, up to date, and thorough background screens in the industry. As a leading online pre-employment screening service, USAFact combines the latest Internet technologies with an experienced professional staff to deliver a proven resource to thousands of clients, processing thousands of reports daily. Offering a variety of screening packages for businesses of any size, from the small non-profit to Fortune 500, USAFact provides services custom-tailored to their individual needs. For additional information on USAFact's products and services please visit http://www.usafact.com, or call 1(800) 547.0263.