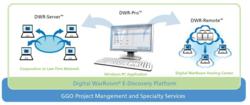 "Digital WarRoom organizes e-discovery in line with the EDRM phases....It's common for new users to be proficient at document review in a couple of hours."
Barry O'Melia
Seattle, WA (PRWEB) March 27, 2012
Gallivan, Gallivan and O'Melia (GGO, LLC), the e-discovery experts driving the move toward accessible, affordable e-discovery solutions, have announced the release of version 8.3 of the Digital WarRoom e-discovery platform.
The new release includes enhancements in performance and usability that enable administrators and review attorneys to get documents into review faster, identify key people, events, and terms in the document set, and make faster more accurate decisions about responsiveness and privilege.
"The work areas within Digital WarRoom organize the e-discovery process with a flow that closely follows the EDRM phases of processing, analysis, review, production, and presentation," said Barry O'Melia, who heads up the Digital WarRoom product effort at GGO. "It's common for new users to be trained and proficient at document review within a couple of hours."
Processing is faster than ever in Digital WarRoom 8.3:
Multi-threaded Processing: The integrated document processing engine in Digital WarRoom utilizes up to 12 core processors, achieving a radical improvement in throughput of processed documents. By taking advantage of multi-core processing, the extraction of documents from container files, and processing of email messages from PST, NSF and other mail folders are dramatically faster.
Multi-threading support for OCR: Multi-core processing is leveraged in the OCR (optical character recognition) as well. The integrated OCR engine in Digital WarRoom handles more types of files, consistently produces higher accuracy rate, more robust creation of accurate searchable text from processed image files.
Host your Summation database on Digital WarRoom: New with 8.3 is the ability to migrate existing case data from AD Summation or other legacy review tools, with GGO support, eliminating the need for pre-processing and giving e-discovery teams better options for review management.
Enhancements to Analytics provide great clarity during early case assessment:
Domain-to-Domain Analytics: In addition to 'Who to Whom' and other popular faceted views in the analysis tool, users can now view communication patterns between email domains.
Review is even more efficient in 8.3:
Customizable Reviewer Settings: Reviewers can tailor the work area, on single or double monitors, to display preferred columns, document review pane, conversation threads, marking palette in the layout they find most efficient.
Enhanced print capability: The new release provides custom print settings and matter-level print associations.
Customizable Redactions: Custom color and font selection allows users to specify the appearance of redactions
Law firms and corporate legal teams can realize the efficiency advantages of true end-to-end e-discovery with Digital WarRoom, eliminating costly up-front processing. GGO has challenged the industry's evasive pricing practices by publishing our transparent pricing on the web at http://www.digitalwarroom.com/prices . A single-user license for DWR Pro is just $895, while DWR WorkGroup, the multi-user implementation, starts at just $3895.
About Digital WarRoom e-Discovery Platform
Gallivan Gallivan & O'Melia created the Digital WarRoom technology for in-house use by solo attorneys, corporations and law firms to address document processing, review and production in matters of all sizes. The software can be licensed in a variety of forms, addressing any size law firm or matter:

Digital WarRoom Pro, the first PC based product for e-discovery, allowing an individually licensed user to conduct complete e-discovery on a Windows computer;
Digital WarRoom WorkGroup, a multi-user application that allows corporate IT, in-house legal, or law firm e-discovery practitioners to manage e-discovery case data processing, document review and production without high priced volume-based processing;
Digital WarRoom Remote hosted e-discovery, a full-service hosted platform designed for distributed and virtual team access to case data.
The Digital WarRoom platform is unique in its ability to create and save case data in a portable form. A case database created on any Digital WarRoom product can move seamlessly to any other Digital WarRoom product, with all attorney work product preserved. This unmatched flexibility allows organizations to cost effectively handle an entire portfolio of matters in-house, while retaining the option for full-service hosted review on larger, complex and global matters.
About GGO
Since its inception in 2002, GGO (Gallivan Gallivan & O'Melia LLC) has successfully completed over 3500 complex e-discovery matters. In 2011, GGO introduced the Digital WarRoom® line of software products, spanning the entire e-discovery lifecycle from capture through processing, review, and production. Customized services include M&A target data preservation and internal data mining and investigations. Headquartered in Seattle, GGO offices are located in New York, Santa Clara, San Francisco, Dallas, Los Angeles, and London, serving all metropolitan markets in Europe, Asia and North America. Leading global corporations, Fortune 1000 companies, Am Law 100 law firms, and government agencies, including the Library of Congress, rely on GGO for robust technology and personalized service. To learn more about GGO, visit http://www.digitalwarroom.com