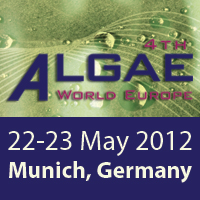 4th Algae World Europe with its comprehensive overview is well placed to serve as a platform to promote knowledge exchange and valuable networking in an apt and conducive setting.
Munich, Germany (PRWEB) March 28, 2012
The algae industry has been propelled onto the world stage with the use of microalgae as an alternative biofuel feedstock, gaining renewed interest from entrepreneurs, researchers, scientists and corporations around the world. Hundreds of millions of dollars have been pumped towards the race to harness the maximum potential of algae biofuel and turn algae into a commercially viable energy source. Other than biofuels, algae is also touted as valuable feedstock in industries such as nutrition, pharmaceutical, cosmetics, including animal and aquaculture feed. Its roles in carbon capture and wastewater treatment have also gained massive interest from players in cement, water and power.
The promising opportunities and future of Algae industry are the highlights at the 4th Algae World Europe conference in Munich, hosted by Centre for Management Technology, a global conference organizer based in Singapore. To take place on 22-23 May, 2012, the 1.5 day event features expert speakers from the industry's top major players including Lux Research, Icos Capital Management BV, Ingrepro BV, Photonz Corporation, Wageningen University and Research Centre, University of Florence, GMB GmbH, AlgaeStream SA, Toeps, Feyecon, The Finnish Environment Institute, Technische Universität München, Pall Corporation (HQ), The University of Sheffield, Fraunhofer Institute, Novasep Process SAS and University College London.
The 2012 edition of the highly successful series expects to once again attract over 200 Project Owners, Technology Developers, Cleantech Entrepreneurs, Research Institutes, Aquaculturists, Financiers and Investors, Heavy Industries including Mining Companies, Power Plant Operators, Cement Plant Operators, Biofuels Network, Animal Feed Companies, Nutraceuticals /Pharmaceutical companies, Fertilizer suppliers, Aircraft/Engine Manufacturers, Technology suppliers for Downstream processing, Water Treatment & Waste Water Professionals to participate.
With "Towards High Value Applications and Commercialization" as the theme, the conference promises to present detailed analysis, significant information and latest updates on:

How to Approach Commercialization
Attracting Funding and Capital Investment for Algae
Microalgae for Animal Feed
Commercialization of Omega-3 Fatty Acid EPA
Microalgae Bio refinery and Co-Products
Algae Strains and Technologies for Applications from Cosmetics to Biofuels
GMB's Green Mission algae project- Experiences and First Results
AlgaeTunnel®, a Pioneering Technology for Large Scale Algae Biomass
Algae as a Feedstock for Jet Fuel
AllGAS Project – Products from Waste Water
Optimizing Lipid Production for Algae; Importance of Defining Growth Conditions
New Catalytic Approaches to Produce Higher Grade Fuels from Algae
Pall's Algae Separation & Concentration Program
Microbubble Mediated Algal Production: Acceleration of Bioreactors, Screening, and Microflotation Harvesting
Developments of Cultivation and Extraction Processes for Omega-3 Fatty Acids
Advanced Chromatographic Technologies and their Application to the Industrial Scale Purification of Omega-3 from Algae
Genetic Engineering of Microalgae for Novel Products and Increased Productivity
While Algae's potential is undisputed, its commercialization will dictate the future directions for the industry. 4th Algae World Europe with its comprehensive overview is well placed to serve as a platform to promote knowledge exchange and valuable networking in an apt and conducive setting.
For complete program agenda of 4th Algae World Europe, visit the event's website at http://www.cmtevents.com/eventschedule.aspx?ev=120526& . To register or submit any queries, contact Ms. Huiyan at (65) 6346 9113