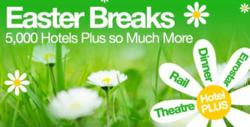 (PRWEB UK) 27 March 2012
Superbreak, the weekend breaks specialist, has reported a +47% increase in online visits to its Easter Breaks section with sales for key UK destinations over the Easter break period also growing at a similar rate. With an extensive catalogue of UK and European hotels, family theme park breaks, theatre breaks, dinner deals and a host of travel options, the Yorkshire based tour operator is able to provide its customers with even more choice and package flexibility this Easter.
Online booking trends for 2012 show a shift towards inland city and countryside short break destinations – a noticeable change from 2011, where Superbreak customers opted for traditional seaside locations such as Bournemouth, Blackpool and Torquay. This year, the company has reported online revenue growth for provincial cities including Liverpool and York, as well as countryside locations such as the Peak District with 10% of online bookings so far being for the company's popular two night dinner deals offers.
Sales for the company's theme park and attraction breaks for the Easter holidays are already encouraging with 34% of online theme park and attraction break revenue for the brand new Warner Bros. Studio Tour – the Making of Harry Potter packages, which opens on the 31st March 2012. As usual, a number of the big UK theme parks and attractions will host a range of Easter events, including Cadbury World's Easter Eggstravaganza, Chester Zoo's Dinosaurs Bit Back event and the Dragon Egg Hunt & Medieval Siege at Warwick Castle - all of which Superbreak has excellent availability for.
Since the December 2011 launch of Eurostar Breaks online, Superbreak has seen an increase in breaks to continental Europe, with the French capital Paris reporting the largest online revenue growth during the Easter holidays. Additional transport options, including Eurostar, P&O Ferries, UK Rail and more recently flights, have helped to set the company apart from its competitors by offering clients a 'one-stop-shop' style approach for short breaks and weekend escapes.
Khalid Amin, Online Marketing Manager at Superbreak, commented: 'Easter is a great time for us, with the school holidays, a long weekend and warmer weather people are looking to get away for a short break. In 2012 we are able to offer our customers a greater selection of dinner deals, theatre breaks and attractions including Easter events and the highly anticipated Warner Bros Studio Tour, so there are more reasons to book for the Easter break.'
About Superbreak:
Superbreak is the internet division of Superbreak Mini Holidays Limited, the market leader for short breaks and hotels throughout the UK, including hotels in Edinburgh, Paris and Dubai. Superbreak is part of Holiday Break plc. Based in York, England, Superbreak specialises in booking city breaks in 2-5 star hotel accommodation throughout Britain for the leisure traveller. Superbreak also work with various travel providers offering a range of rail breaks, P&O mini cruise breaks, flights & more.
With 5000 plus hotel partners in worldwide locations from Manchester to Brighton, from London to Paris and with great availability and rates for theatre breaks, events at the O2 Arena, various popular attractions and national and international rail partners, Superbreak can offer an outstanding depth and breadth of UK and Overseas short break products.
For further information on Superbreak or on this PR, please contact:
Khalid Amin
Online Marketing Manager
Superbreak Mini-Holidays
Eboracum Way
York
YO31 7RE
(01904) 436043
http://www.superbreak.com