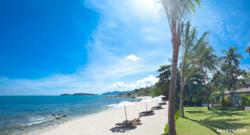 (PRWEB UK) 28 March 2012
Bring your 'A game' to the Samui Triathlon 2012 with special triathlon packages from Koh Samui's most stylish and talked-about new boutique resorts, AKARYN Samui at stunning Hanuman Bay and akyra Chura Samui in a serene corner of action-packed Chaweng Beach.
AKARYN Samui, which launches this month, is offering an "Intuitive Luxury for Athletes Package" including hi-carb meals, race-day and equipment transfers, complimentary massage and more.
At akyra Chura Samui, athletes' meals with high carbs and healthy fish from its Barracuda Beach and Suikin restaurants are the highlight of its "Triple Passions Package'' package, with transfers and assistance for triathletes also provided. Both resorts also will be delighted to provide post-race pampering at exclusive SPA IV for weary road warriors.
The triathlon starts at 7.25am on April 22, 2012 at Bophut Beach, just 10 minutes from AKARYN Samui's secluded beachfront setting at Hanuman Bay, between Chaweng and Choeng Mon beaches. It's also a short trip from akyra Chura Samui. Both resorts offer perfect peace and pristine surroundings plus cutting edge fitness centres for pre-race training and warm ups, meditation visualization and whatever else athletes need to get in the zone. Both also ensure athletes and their equipment will be transferred to the race starting area in plenty of time.
AKARYN Samui and akyra Chura Samui are both part of Thailand boutique hotel pioneer Anchalika Kijkanankorn's Akaryn Hospitality Management Services (AHMS) group, which also includes the renowned Aleenta resorts at Phang Nga, Phuket and Pranburi, near Hua Hin.
Ms Kijkanakorn said the special packages would give athletes an edge and help them achieve their peak performance. "My husband Stephane is an ironman and triathlete, so I understand how much preparation goes into these races and what a test of mind, body and spirit they are.
"AKARYN's Intuitive Luxury approach means we understand what athletes need and we will do everything we can to help them have the perfect race and set a personal best, no matter what their level. akyra Chura Samui is a younger and more active resort, all about discovering passions. I know how passionate triathletes are about their sport and I wish all competitors the best of luck. If there is anything else our team can do to assist, please don't hesitate to ask."
At AKARYN, special athletes' meals include an early race day energy breakfast created to deliver optimum performance, with eggs, pancakes, cereals, fruits, coffee, energy drinks and more served from 4am, and the day before, a high-carb breakfast and a special 3-course athletes' high-carb dinner at beachfront restaurant The Edge.
The Samui Triathlon race and registration area is only 10 minutes away from our resort and resort teams will also be happy to assist racers with the transfer of equipment from AKARYN and akyra to the race zone on April 21, 2012 for the bike check (2:00 to 5:00pm). Furthermore, there will also be a special morning transfer to bring all racers to the Samui Triathlon zone at 5:00am before the race.
AKARYN Samui "Intuitive Luxury for Athletes Package"
Pool Suite: THB 5,200++
Pool Suite Sea View: THB 6,000++
Pool Villa: THB 6,600++
Special rates are subject to government taxes and service charge.
Special rates are available from 18-15 April only and are inclusive of gourmet breakfast with race day energy breakfast served from 4am and a three-course "high-carb dinner" on the evening of the event. Athletes and guests confirming their reservation before March 31 will also receive a complimentary 90-minute Swedish Sport Massage at Spa IV.
Akyra Chura Samui "Triple Passions Package"
Deluxe Room: THB3,000 ++
Grand Deluxe: THB3,300 ++
Grand Deluxe Seaview: THB3,600 ++
One Bedroom Suite: THB4,100 ++
One Bedroom Suite Seaview: THB 4,400 ++
Special rates are subject to government taxes and service charge.
Special rates are available from 18-15 April only and are inclusive of gourmet buffet breakfast and "To Go Breakfast" on the morning of the race. Pre-race dinner is available at Barracuda beach on Saturday April 21 with a full on carb-loaded menu for THB690++ per person including soft drinks, juice and water. After the event relax at our post race dinner at Barracuda beach, Sunday 22nd April 22 with our fish barbeque at THB599 ++ per person, along with our listed, special beverage promotions