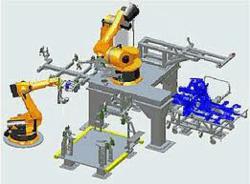 Architecture & Chemical Engineering Sciences @ ScienceIndex.com
Mannheim, Germany (PRWEB) March 28, 2012
ScienceIndex.com is a Web 2.0 sciences social network established in 1998 to index the very latest news, headlines, references and resources from science journals, books and websites worldwide. The site covers news in all fields of biology, business, chemistry, engineering, geography, health, mathematics and society. In the field of Engineering, the site has now included the two new categories Architecture and Chemical Engineering. While the Architecture category covers the design and construction of buildings, the Chemical Engineering category covers the technology of large-scale chemical production and the manufacture of products through chemical processes.
ScienceIndex.com's Engineering Sciences Category covers the design, manufacture, and operation of efficient and economical structures, machines, processes, and systems. Its eight subsections include Architecture, Chemical Engineering, Civil Engineering, Communication, Control Systems, Electronics, Industrial Engineering and Mechanical Engineering. Users can receive alerts if new content has been posted in this category by subscribing to ScienceIndex.com's Engineering Sciences RSS feed.
ScienceIndex.com's Architecture Sciences category covers the technology of large-scale chemical production and the manufacture of products through chemical processes. It currently contains over 4,200 articles partly derived from nearly 40 scientific journals. The latest articles in this category are also available through a Architecture Sciences RSS feed. One of the latest additions covers the influence of urban planning regulations on the microclimate in a hot dry climate. This article deals with the relationship between the urban planning regulations and microclimate in the hot dry city of Damascus, Syria. The authors show that the street design including aspect ratio, orientation and the presence of trees has a great influence on ground surface temperatures and thermal comfort. They demonstrate the importance of modifying the planning regulations in Damascus for new areas by allowing smaller setbacks, narrower streets, and higher buildings. Another newly included story examines linkages between income, housing quality and disease occurrence in rural Ghana. It analyzes the impact of housing poverty and poor sanitation on the health conditions of households in rural Ghana and highlights policy approaches and gaps for ensuring environmental sustainability in Ghana. The results indicate that poor-quality housing and sanitation conditions are a function of low household income levels. The authors conclude that the nature of the built environment as regards rural housing and sanitation is a significant determinant of disease prevalence in villages of rural Ghana.
ScienceIndex.com's Chemical Engineering Sciences category covers the nature, effects, and detection of poisons and the treatment of poisoning. It currently contains nearly 55,000 articles partly derived from 124 scientific journals. The latest articles in this category are also available through a Chemical Engineering Sciences RSS feed. One recently included article in this category provides a comparison of bioethanol production of simultaneous saccharification and fermentation (SSF) and separation hydrolysis and fermentation (SHF) from cellulose-rich barley straw. The results of this study demonstrate that the SSF process is more effective than SHF for bioethanol production by around 18%. Another story evaluates the potential of small-scale synthetic natural gas (SNG) production from biomass gasification and concludes that SNG production subsequent of a small-scale fluidized bed gasifier can very well be efficient in both energetic and economic regards.
ScienceIndex.com currently contains over 1.42 million stories distributed among 75 categories. 75,460 users monitor nearly 8,400 journals covering the broad spectrum of sciences. They share circa 2,500 new articles every day. Since new science content is discovered in real-time, the delay between original publication and appearance at ScienceIndex.com is no more than two days. ScienceIndex.com provides an advanced search feature which suggests up to ten closely related articles for a search and also for a selected story. Other features include a "Life Traffic Feed", a "Top Content" sidebar, Google Translate functionality, and RSS feeds for every category. ScienceIndex.com also maintains the new Twitter account @ScienceIndex_.