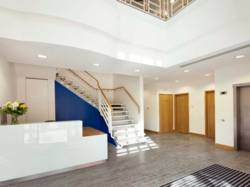 Avanta is generating more than 400 enquiries every week from occupiers seeking space through non-conventional channels
London (PRWEB UK) 28 March 2012
Ten properties in London and the South East totalling circa 100,000 sq ft are to be marketed by APM Property Consultants (APM) on behalf of McKay following a highly successful pilot project at Portsoken House, a 50,000 sq ft building in the City.
APM, the commercial property arm of the Avanta Group, is working in partnership with McKay to spearhead innovative ways of marketing property by following the trend toward online property search. APM's involvement will be alongside McKay's existing agent relationships and the combination of the old and new offers an innovative marketing strategy.
"Avanta is generating more than 400 enquiries every week from occupiers seeking space through non-conventional channels," comments APM managing director, Richard Douglas, "We'll be targeting those occupiers with requirements matching the opportunities available within McKay's portfolio."
Simon Perkins, Managing Director of McKay added "From our pilot project in the City, we learnt that we can exploit the potential for online property marketing through partnering with a specialist agency that has the capacity to generate enquiries from those occupiers whose first port of call is internet search rather than more traditional routes". This is an evolving source of enquiries which we are keen to gain exposure to and benefit from.
McKay will be able to draw on the skills of APM and Avanta to provide a turn-key arrangement if tenants require help with fit-out, facilities and property management
Simon Perkins continued "The linkage with APM and Avanta enables us to offer not only good quality business accommodation, but also a range of additional benefits to prospective tenants.''
Note to editors:
Avanta Property Consultants Ltd was formed in 2010 by Avanta Managed Offices Ltd and Richard Douglas. The business acts for corporate occupiers and seeks to create return on capital investment for them by letting surplus office space and re-utilising any existing infrastructure and facilities, or by fully recovering any additional financial investment required to deliver a 'turn-key' bespoke solution for a tenant.
McKay Securities PLC is a commercial property investment company with Real Estate Investment Trust (REIT) status specialising in the development and refurbishment of quality buildings within established and proven markets of South East England and central London.
For further information about Avanta
Colin Peck, Gravitas Business Communications
07802 606 433
colinpeck (at) aol (dot) com
Avanta Property Consultants
020 7947 5300
http://www.apm-property.com
info (at) apm-property (dot) com
Join us at:
Twitter: @apmproperty
Blog: http://www.apm-property.com/blog