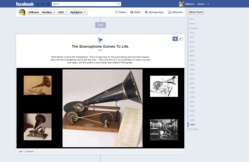 For any audiophile who wants to know more about who's behind their favourite songs, who wants to look up lyrics, read artist
interviews, bios and more, iAlbums is a must have.
- (The Next Web)
Tel Aviv, Israel (PRWEB) March 28, 2012
The new Facebook Timeline is a virtual museum that marks the important milestones in the history and evolution of music players from Edison's 1877 Phonograph, until the invention of iAlbums.
"We created the Facebook Timeline to demonstrate how iAlbums is the next phase in music listening," says Yair Yona, VP Marketing for iAlbums. "iAlbums is the natural development in music listening evolution. We are merging the wonderful listening experience of the CD and LP, where you had a booklet full of pictures, song lyrics, bits and pieces about the band/artist and that wonderful smell of chrome paper, together with the amazing possibilities that the digital era affords us. We're giving users the most all-encompassing music listening experience available on mobile platforms."
The iAlbums application is a rich content music player, which enhances the listening experience by giving users multiple layers of content uniquely relevant to the music being played at the moment. This content includes biographies, reviews, artists' tweets and Facebook updates, videos, lyrics and more. The user can also share his iAlbums experience with his friends through Facebook, Twitter and Tumblr.
Check out our new Facebook Timeline here.