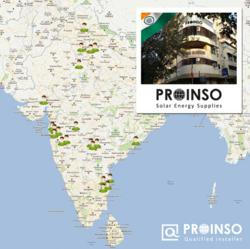 (PRWEB) March 28, 2012
PROINSO, a company that supplies modules, inverters, trackers and fixed structures for roof- and ground-mounted solar PV systems, is growing globally, and it has announced the opening of two new branches in Australia (Brisbane) and India (Mumbai). So currently, with these two new branches, PROINSO has a total 12 around the world, which confirms its interest in emerging solar PV markets.
At present, PROINSO has 32 Indian and 12 Australian Qualified Installers in its International Network. They are local companies with at least three years' experience in the solar industry and have teams of engineers and installers capable of designing and carrying out solar projects.
The new branches in both countries will provide services to existing installers and try to attract new installers and customers. Besides, they will have products in stock to be delivered as soon as installers need them. The multinational company has delivered products to different PV projects in both India and Australia.
Last year, PROINSO supplied 35 MW to five solar PV projects in India, a country whose solar energy market is expected to grow steadily over the next years. Solar energy in India has been estimated to reach over 20,000 MW installed by 2022. In late 2011, PROINSO participated in Intersolar India to great success. At the trade show, the company contacted a great many customers, and it is planning to attend the event once again this year.
In Australia, PROINSO has supplied around 30 solar trackers for different projects and hopes to strengthen its presence in the country.
At present, PROINSO has offices in Spain, Germany, Greece, Italy, France, USA, Canada, China, South East Asia, UK and Czech Republic, plus the two recently opened in India and Australia. PROINSO'S International Network of Qualified Installers is made of as many as 1,986 member companies around the world.
As already announced, Australia and India are two of PROINSO's target markets, alongside Mexico and Brazil, where the multinational solar PV company is working to grow stronger. Of the company's total sales in 2011, 88% were exports. 83% went to European and North American countries, whereas the remaining 5% were sales in emerging markets. It is precisely in this sector that PROINSO expects to grow in the near future.
Last year, PROINSO delivered a total 303 MW in modules and inverters to solar projects in all five continents. With last year's turnover, the company has delivered a total 1,115 MW to different countries, hitting a record high and becoming one of the world's leaders in the solar industry.//
PROINSO INDIA
6 F, Vaswani Mansions,
120 Dinshaw Vacha Road,
Churchgate,
Mumbai-400020
Phone number : (+91) 022 - 4348 4019
Fax: (+91) 022 - 4348 43484001
Email address: india(at)proinso(dot)net
PROINSO AUSTRALIA
Level 22, 69 Ann Street
Brisbane, 4000
AUSTRALIA
Phone number: 073112 5293
Fax: 073112 5101
Email address: australia(at)proinso(dot)net
Corporate Information: PROINSO http://www.proinso.net
PROINSO specialises in the supply of modules, inverters, fixed structures and trackers for PV solar stations. The company has distribution agreements with TRINA SOLAR, CANADIAN SOLAR, REC, SCHOTT Solar, JINKO Solar, YINGLI Solar and LDK Solar for modules, and with SMA, SOLARMAX and INGETEAM for inverters, and is a distributor of trackers and fixed structures from MECASOLAR.
PROINSO is the world's leading supplier of TRINA modules and the largest supplier of SMA inverters, being an international provider of the products manufactured by the German company.
The company has branches in Spain, Germany, Greece, Italy, USA, GB, France, Canada, China, South East Asia, the Czech Republic, Australia and India.//