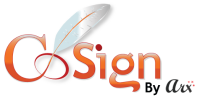 "Since many of our European customers are looking for CoSign to be integrated with SharePoint, GxPi has the skills and experience to deliver a total solution for electronic document management," said Rodd Schlerf, FDA Markets Manager, ARX.
San Francisco, California (PRWEB) March 29, 2012
ARX (Algorithmic Research), the largest supplier of FDA-compliant digital signature solutions in the FDA/EMA regulated markets, is proud to announce its partnership with GxPi, a leader in compliant SharePoint-based content management and quality and compliance consulting services within the life sciences industry.
GxPi's x-docs® is a validated electronic document management system (EDMS) built on Microsoft® SharePoint®. It has been designed for ease-of-use, value-for-money, and inherent compliance with strict industry regulations and best practice. The EDMS enables life sciences organizations of any size to easily manage and store controlled documents, and also offers an enhanced audit capability, integrated and compliant digital signature functionality through CoSign® digital signatures, approval workflows with user authentication, and more.
In addition to their own product, GxPi also provides validation services for CoSign digital signature installations; including their integration with other vendor's software and Microsoft SharePoint in local Server or Pharma Cloud environments. GxPi's experience and pragmatic approach allows life sciences organizations to quickly and efficiently validate their CoSign and other EDMS technologies for compliance with 21 CFR Part 11, Annex 11 and other GxP regulatory requirements.
"Our goal is to provide life sciences organizations with business automation tools that meet their requirements while facilitating compliance, and that do so at a lower cost and with simpler implementation and management," said Keith Williams, CEO, GxPi. "Incorporating CoSign digital signatures enables workflows to remain paper-free throughout while maintaining security and compliance in 'on-premise' or hosted environments."
Use of CoSign FDA-compliant digital signatures in life sciences includes 8 of the top 10 largest Pharmas, including the largest biopharmaceutical companies in the UK, France, Germany, Switzerland, and Denmark.
"By teaming up with GxPi, our European customers are able to validate CoSign without developing their own custom scripts," said Rodd Schlerf, FDA Markets Manager, ARX. "And, since many of our customers are looking for CoSign to be integrated with SharePoint, GxPi has the skills and experience to deliver a total solution for electronic document management."
About GxPi
GxPi works upon the principal that complex issues can be simplified to deliver long term business benefit, better efficiencies and cultural change. We achieve this through a combination of products and services designed specifically for compliance requirements in the life sciences sector. GxPi's products, x-docs™ and x-train™, provide enterprise grade electronic Document, Content and Compliant training solutions. GxPi's services cover all aspects of regulatory compliance (GMP, GAMP, GLP, GEP, GCP, GDP), qualified person (QP), quality assurance (QA), and validation particularly with Computerised and Information Technology (IT) systems (For more information, please visit http://www.gxpi.com).
About CoSign Digital Signatures in Life Sciences
ARX (Algorithmic Research) is a global provider of cost-efficient digital signature solutions for industries such as life sciences, healthcare, government, engineering, and energy. ARX's CoSign digital signature solution fully automates approval workflows, allowing organizations to go paperless, expedite business processes, and eliminate the expenses and time allocations that paper-based signatures require. CoSign is the most widely-deployed digital signature solution in the Life Sciences industry, employed by over 20,000 FDA-regulated organizations including 9 of the top 10 Pharmaceuticals and 6 of the top 10 CROs. Via its standards-based underpinnings, the CoSign digital signature solution ensures signer intent, document integrity and compliance, while significantly streamlining business processes. CoSign creates a truly collaborative environment for the multiple parties involved in the Life Sciences ecosystem, enabling trust of electronic documentation spanning geographic locations and across organizations. Watch a Digital Signatures for Life Sciences video to learn how life sciences organizations can benefit from CoSign.
###
CoSign is a registered trademark of Algorithmic Research, Ltd. All other trade names and trademarks are the property of their respective holders.