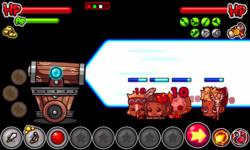 Seoul, South Korea (PRWEB) March 27, 2012
Shooting Warrior is an exciting new battle strategy game designed for Android by game maker Daerisoft. It offers a well-balanced blend of tactics, action, and resource management in an adorably animated fantasy setting.
The player steps into the role of battle commander, charged by the emperor with the duty to expand the empire's territories. To do so, the player must destroy the enemy strongholds present on each of the outlying islands that serve as the game's stages. The island's evil natives are impressively intimidating opponents, and victory does not come easily. In order to successfully take the ten islands, the enemy forces on each must be overwhelmed and their fortress destroyed. Each island consists of five stages; there are also ten additional hidden levels for the player who proves his or her worthiness as a conqueror.
Shooting Warrior gives players all of the tools necessary to enact their own personalized strategy. With three heroes, nine soldier types, and nine hidden characters to unlock, upgrade, and deploy, the game's offers a satisfying variety of fighting forces. Specialty items are an additional aid against the 35 enemy types and five challenging bosses. Equipment as well as characters can be upgraded. Numerous options present the opportunity to refine tactics and keep Shooting Warrior fresh and fun.
Shooting Warrior will appeal to casual gamers and strategy lovers alike, charming with its challenge as well as its polished, pleasingly cute presentation. It's available in the Android Market now, for only $2.99.
Major Features:

Deploy troops and special items via the shipboard cannons
Utilize 3 distinct hero types, each with their own specialized skills, to maximize your attack
9 soldier types provide you with a variety of attack ranges and defensive skills—allocate your resources wisely to use swordsmen, cavalry, archers, and more to annihilate the enemy
Prove that the Shooting Warrior is up to the task, and unlock 9 additional hidden characters!
Improve your heroes and soldiers by earning levels to increase their potential, and by upping their HP, attack abilities, and special skills
Upgrade your cannon's HP and range, and add more artillery slots to strengthen your fighting force and enhance your defenses
10 initial stages provide non-stop challenge, and a bonus 10 hidden stages can be unlocked as you progress
Refine your tactics and tailor your strategies to face off against 35 distinct enemy types
Prove yourself against 5 imposing bosses