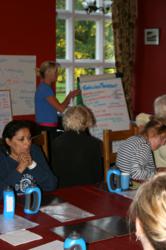 Yoga and Meditation is part of the FitFarms fitness retreat programme
(PRWEB UK) 28 March 2012
Supporting guest post weight loss boot camp has always been a main priority for UK based fitness and weight loss company FitFarms.
The average guest at FitFarms loses 8lbs 3oz! This seems exact and it is because FitFarms records every weigh in, weight out, body fat percentage, hip and waist measurement. The fitness company has earnt the title of the number fitness and weight loss retreat in the UK. This is mainly down to precise training programmes and scientific testing on nutrition and exercise.
The 7 day weight loss boot camp was introduced to the UK in 2006. Since FitFarms established itself there has been over 20 retreat and boot camp companies that have opened up in the country. FitFarms has kept itself ahead of the field through a more caring approach and providing a structured after care programme. There is an actual page which has been developed just for their weight loss retreat guest called post course support.
The after care programme is mainly developed by Life Coach and motivational fitness director Gillie Sutherland. Gillie is holding the controls for the new facebook page called The FitFarms Club. The plan behind the new club page is that when retreat guest need motivation Miss Motivator Sutherland pops up and persuades the guest to lead a healthier balanced lifestyle.
There is also a non facebook page that is being made for holistic fitness boot camp guest that do not use the social networking company. This page will be accessible from the FitFarms retreat website and will be open just to past residential guest.
This is a good season to book as it's not too hot and also we are out of the winter weather. The all important post course support will be their to support the fitness boot camp guest.